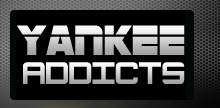 News published by
October 21, 2013
With the Los Angeles Dodgers signing Cuban second baseman Alexander Guerrero to a four-year, $28 million deal, they are no longer in the market for Robinson Cano. Sources: #Dodgers agreed to ...
September 25, 2013
The New York Yankees have been officially eliminated from playoff contention after 157 games. This marks just the second time in the wild-card era that the Yankees have failed to make ...
September 16, 2013
The Boston Red Sox completed a sweep of the New York Yankees on Sunday night, extending their lead in the AL East to 12.5 over their bitter rivals. The Yankees are ...
September 11, 2013
Bobby Valentine just can't help taking shots at the New York Yankees. While talking to WFAN radio on Wednesday, Valentine started discussing the role of baseball after the 9/11 attacks and ...
September 11, 2013
Derek Jeter's 2013 season is over after just 17 games, but his career won't end just yet. The New York Yankees have essentially lost their shortstop for the year after he ...
September 9, 2013
The New York Yankees had a bit of fun with their new rookies Sunday, forcing them to dress as pop stars for their "rookie hazing." According to Ian Begley of ESPN, Joba ...
August 27, 2013
Alfonso Soriano had himself a whale of a game on Tuesday night, clubbing a pair of home runs in his first two at-bats to reach 400 career dingers. The New York ...
August 27, 2013
Alfonso Soriano clubbed home run No. 400 on Tuesday night against the Toronto Blue Jays, becoming the 51st player in MLB history to reach the milestone. The New York Yankees were ...
August 20, 2013
We could be witnessing history every time we watch New York Yankees second baseman Robinson Cano step up to the plate. The 30-year-old slugger blasted his 200th career home run Tuesday ...
August 15, 2013
Mark Reynolds is officially a New York Yankee. According to Jon Heyman of CBS Sports, the two sides reach an agreement on Thursday, and Reynolds will join the team shortly. The Yanks ...