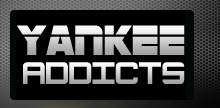 August 15, 2013 · J.J. Schoch · Jump to comments
Article Source: Bleacher Report - New York Yankees
Mark Reynolds is officially a New York Yankee.
According to Jon Heyman of CBS Sports, the two sides reach an agreement on Thursday, and Reynolds will join the team shortly.
The Yanks sit nine games back in the AL East and six games back in the Wild Card race, and Heyman believes that adding Reynolds will help the team.
Reynolds will help with the Yankees' right-handed power, which has been an issue most of the year. And just as vital, he provides insurance in case the recently returned Alex Rodriguez can't hold up.
It's hard to argue with Heyman's logic, as Reynolds is a run-producer who can help a lineup that ranks 22nd in MLB in runs scored at 465, a full 145 runs behind the Boston Red Sox.
The Yankees have struggled to put together a run-scoring lineup all year long, and adding Reynolds could certainly help the team.
Reynolds has played both first and third base in his career, which are the two weakest positions for the Yankees right now. The team traded for Alfonso Soriano and got Curtis Granderson back from the DL, so the outfield has become more solid than it's been all season.
However, the team's corner infield spots have been dreadful. New York's third basemen have hit a total of five home runs this year, which is a big reason why the team ranks 23rd in home runs.
Reynolds was batting .215 with 15 home runs and 48 RBI this season before the Cleveland Indians designated him for assignment earlier this month. He provides a much-needed power bat and helps address the team's need for a right-handed bat all at once.
Reynolds is notorious for striking out, as he led the MLB in strikeouts from 2008 through 2010.
Even with the strikeouts and poor batting average, Reynolds' power made him desirable enough for the Yankees to sign him.
Here's a look at how the Yankees lineup could look with Reynolds at first base instead of Lyle Overbay.
Batting Position
Player
BA/OBP/SLG
HR
RBI
1
CF Brett Gardner
.271/.339/.407
8
39
2
RF Ichiro Suzuki
.275/.310/.365
6
27
3
2B Robinson Cano
.300/.384/.500
22
75
4
3B Alex Rodriguez
.278/.350/.417
1
4
5

LF

Alfonso Soriano
.261/.293/.492
24
73
6
DH Curtis Granderson
.286/.405/.457
3
6
7
1B Mark Reynolds
.215/.307/.373
15
48
8
SS Eduardo Nunez
.233/.288/.321
1
17
9
C Chris Stewart
.224/.299/.283
3
18
Reynolds supplies some much-needed power. And by adding another righty into the lineup, the team can balance itself out with five righties and four lefties with Reynolds, or five lefties and four righties with Overbay in the mix.
The Yankees lineup hasn't been as good as expected this year, but adding Reynolds will help. Obviously, he won't fix all the team's problems at once, but this is certainly a smart move by Brian Cashman and Co.
Read more New York Yankees news on BleacherReport.com