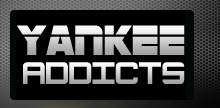 News News
January 19, 2017
Jennifer Steinbrenner Swindal, a New York Yankees general partner and the daughter of longtime team owner George Steinbrenner, stated Wednesday the family still has no plans to sell the organization. Dan ...
January 19, 2017
When it comes to opt-out clauses, the New York Yankees tend to opt in. They aren't always happy about it. They don't always do it right away. But when Alex Rodriguez ...
January 17, 2017
Former MLB star Alex Rodriguez is set to host a CNBC reality show, Back in the Game, according to Alex Weprin of Politico. On the show—which includes former NFL player Michael ...
January 17, 2017
Pitchers and catchers with a predilection for pre-planning (say that five times fast) have already begun packing their bags for Florida and Arizona. Spring training is almost here, people, and ...
January 10, 2017
The New York Yankees remain a team in flux, heading into spring training with a roster that could contend—or fall short of the playoffs for the fourth time in the ...
January 5, 2017
It's not easy to do what the New York Yankees have done. It's even tougher to do what they have to do next.  In this era in which total rebuilds are ...
January 2, 2017
The calendar may have flipped to 2017, but we're still a couple of cold months away from baseball. That's actually good news (hear me out) for many MLB clubs with ...
December 20, 2016
Nobody can fault the New York Yankees if they're getting cold feet with their plan to take the long way back to success, but the best advice for them right now ...
December 16, 2016
The New York Yankees are rebuilding. They're also trying to win. That's how it works in the Bronx. Those aren't mutually exclusive goals. Last season, the Yankees sold at the trade ...
December 13, 2016
It looks as though the New York Yankees' offseason spending could remain dormant for the rest of the winter; however, veteran outfielder Brett Gardner's name has emerged in trade talks.  Continue ...