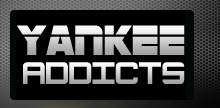 December 20, 2016 · Zachary D. Rymer · Jump to comments
Article Source: Bleacher Report - New York Yankees
Nobody can fault the New York Yankees if they're getting cold feet with their plan to take the long way back to success, but the best advice for them right now is to stay the course.
That would involve not making a trade for Chicago White Sox left-hander Jose Quintana. As Jon Morosi of MLB Network reported Monday, that's something the Yankees are at least interested in doing:
What we have here is a team with a square hole to fill casting its gaze on a square peg.
The Yankees added a major piece to their bullpen when they brought back Aroldis Chapman on an $86 million contract. However, even he and Dellin Betances can only pick up so much slack for a starting rotation that's littered with question marks beyond Masahiro Tanaka.
Quintana would be quite the answer to that problem.
Although he's so far spent his big league career playing Garfunkel to Chris Sale's Simon, Quintana's no slouch. He's posted a 3.35 ERA across 814.2 innings over the last four seasons. He's actually produced more wins above replacement than Sale, who turned his Sox from White to Red during the winter meetings, since the start of 2015.
As if that alone didn't give him enough value, Quintana also offers something that makes baseball executives swoon: cheap control. Including options, his contract runs through 2020 for $37.85 million.
For the rebuilding White Sox, Quintana's oodles of value are worth a big ol' bucket of prospects in a trade. Morosi's right about that being another thing that makes him a fit for the Yankees.
They went into 2016 with a decent farm system and came out of it with an elite one. That was thanks to the Yanks accepting their grim reality and aiming for a bright future by trading Chapman, Andrew Miller and Carlos Beltran. When Jim Callis of MLB.com sized up the league's farm systems in August, he ranked the Yankees' system at No. 2.
However, there is a difference between a trade that can be made and a trade that should be made. Quintana to the Yankees is certainly the former, but it falls short of the latter.
If anyone were to drop in on Yankees general manager Brian Cashman and tell him as much, he might say they're preaching to the choir. This was ESPN.com's Andrew Marchand's response to the Quintana report:
Cashman touches base for nearly every available player; especially when it is need based. However, the White Sox want a boatload of prospects. The Yankees have been disinclined to trade any of them so, unless that changes, it seems unlikely Quintana will end up in the Bronx.
If so, Cashman would be sticking to what he said in early October about not wanting to take a newly minted elite farm system and immediately empty it again.
"You'd have to be one piece away, and I would not recommend that type of decision-making as we approach the 2017 season," he said of the possibility of making any big trades, per the Associated Press via ESPN.com. "I think that would be a dangerous approach."
Still, it's possible Cashman's trade finger is itchier now than it was before.
The Yankees did end 2016 on a positive note, riding a boost from Gary Sanchez and other youngsters to a 40-34 record in the second half. And while he'll be sticking around through at least 2019 and possibly through 2021, signing Chapman was more of a win-now move than a win-later move.
Right now, the Yankees are on the Kansas City Royals/Chicago Cubs path to success. But from the above seeds could grow a desire to shorten the road to contention.
FanGraphs' projections for 2017 now have the Yankees in the "not quite in it, not quite out of it" range with an 83-79 record. Adding Quintana would put them closer to the Red Sox in the AL East power structure and perhaps elevate them above all other American League wild-card contenders.
But at what cost? Glad you asked, Anonymous Internet Person.
Craig Edwards of FanGraphs put the rough estimate for Quintana's surplus value on top of his contract at $80 to $90 million. That's not far off what the White Sox received in the Sale trade, which netted them No. 1 prospect Yoan Moncada and more, and it makes it possible to guess at what the Yankees would have to give up to get Quintana.
Going off the prospect values offered by Kevin Creagh and Steve DiMiceli at The Point of Pittsburgh, the Yankees would likely have to base an offer around a hitter ranked in the 11-25 range of Baseball America's top 100. Such players carry $62 million in surplus value.
Per Baseball America's most recent top 100, that would mean a trade based around shortstop Jorge Mateo (No. 19) or outfielder Clint Frazier (No. 21), with shortstop Gleyber Torres (No. 27) possibly being close enough to make the grade.
And that's just to start.
The Yankees might have to add outfielder Aaron Judge (No. 42) or outfielder Blake Rutherford, a 2016 first-round pick who checks in at No. 51 for MLB.com. If not, surely the worst secondary piece the White Sox would settle for is left-hander Justus Sheffield, who's No. 69 for Baseball America.
The upside of sacrificing this much prospect depth would be a couple extra wins on the Yankees' 2017 projection. But not even a trade for Clayton Kershaw would be enough to make up the gap between them and the Red Sox, which currently stands at 10 games. To be safe, the Yankees would need more.
To be sure, they could indeed add more. They would still have pieces to trade for another starter. They could also sign one of the market's remaining sluggers (Edwin Encarnacion, Mark Trumbo, et al) to lengthen out their lineup.
But if the Yankees were to go that route, they'll have fallen right back in the same trap that necessitated them finally stockpiling prospects in the first place. They would have a team that would be good without being heavy favorites now, and which would have little young talent or payroll space with which to fix problems in the future.
The alternative is remaining patient and building something much stronger from the ground up.
The Yankees have already started doing this with Sanchez, Judge and Greg Bird lined up for regular roles in 2017. When their other young talents arrive, they'll be sitting on a young core the likes of which the franchise hasn't seen since the Core Four materialized two decades ago—yes, it has been that long.
It worked for the Royals. It worked for the Cubs. If they let it, it can work for the Yankees too.
Stats courtesy of Baseball-Reference.com and FanGraphs unless otherwise noted/linked.

Read more New York Yankees news on BleacherReport.com