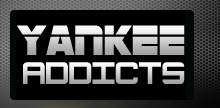 News published by
December 20, 2016
Nobody can fault the New York Yankees if they're getting cold feet with their plan to take the long way back to success, but the best advice for them right now ...
November 23, 2016
The New York Yankees need a starting pitcher. In past winters, that would have led to their going after only the best options, and damn the cost! But since they need ...
August 12, 2016
There's not a lot of joy to be derived from the New York Yankees' present. Their 58-56 record is far from an Atlanta Braves-level disaster, but it marks the fourth year ...
August 11, 2016
Just when the New York Yankees allowed us to think we might be done forever with controversies centered around Alex Rodriguez, manager Joe Girardi pulled us back in. In case you've ...
July 28, 2016
Including this one, the New York Yankees have been winners in each of the last 24 seasons. That's meant 24 years of buying or staying the course at the trade ...
July 16, 2016
For the New York Yankees, August 1 is looking less like the trade deadline and more like a sell-by date. By now, there's little question that selling on the summer ...
June 10, 2016
What Alex Rodriguez was for the 2015 New York Yankees, CC Sabathia has been for the 2016 New York Yankees. That is to say: seemingly against all odds, a hugely productive ...
May 12, 2016
It's looking like not even the New York Yankees can outrun losing forever, and that raises a question. What would it look like if they decided to make the best of ...
April 7, 2016
It appears that all the New York Yankees offense needed to get going this season was a one-game warm-up. Also, somebody other than Dallas Keuchel on the mound for the ...
March 3, 2016
For the last seven years, Mark Teixeira has been paid large sums of money to play ball for the New York Yankees. It's good work if you can get it, ...