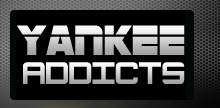 November 23, 2016 · Zachary D. Rymer · Jump to comments
Article Source: Bleacher Report - New York Yankees
The New York Yankees need a starting pitcher. In past winters, that would have led to their going after only the best options, and damn the cost!
But since they need to be smart this winter, let's help point them toward Rich Hill.
In truth, it can be hard to tell which direction the Yankees are leaning in. The offseason rumor mill has featured whispers about their continuing the sell-off they kicked into high gear over the summer. Other times, it's featured whispers about their buying up the hot-stove season's biggest names.
Hey, even general manager Brian Cashman doesn't seem settled on a specific direction.
"We have been walking the tightrope for a few years, and now it is (making decisions for) 2017 vs. '18, '19 and '20," he told Joel Sherman of the New York Post. "Some decisions we make will be for the future and some for the present, and they might contradict each other. We are doing both."
However, there are things that put the Yankees more in a position to add than subtract.
For one, they're already loaded with young talent. They entered 2016 with a respectable farm system. After trades of Aroldis Chapman, Andrew Miller and Carlos Beltran, Jim Callis of MLB.com was calling it arguably MLB's best at the end of July.
Also, it's partially thanks to that young talent the Yankees finished 2016 stronger than they started it. They went from 44-44 before the All-Star break to 40-34 after it. They got a big boost from catcher Gary Sanchez and smaller ones from first baseman Tyler Austin and right fielder Aaron Judge.
Those three are lined up for everyday jobs in 2017. So is first baseman Greg Bird, who missed 2016 following shoulder surgery. With veterans such as Brett Gardner, Jacoby Ellsbury, Starlin Castro, Didi Gregorius and Chase Headley rounding things out, the Yankees lineup is in solid shape.
The starting rotation, however, is a different story. It's Masahiro Tanaka on top and then a series of age (see: CC Sabathia) and effectiveness (see: Michael Pineda) question marks.
This bring us, at long last, back to Hill. According to Buster Olney of ESPN, he's on the Yankees' radar as a potential fix for what ails them:
This sort of feels like classic Yankees. They're used to targeting only the best free agents, and there's little question Hill is the best starting pitcher on the open market. Nobody else even comes close to the 2.00 ERA the well-traveled left-hander has over the last two seasons.
But the caveats here are obvious.
Hill is talented, but he's not durable. He's 36 years old and has pitched just 626.1 major league innings, postseason included. He's had everything from labrum surgery to Tommy John surgery to, most recently, lingering blister issues.
Hill is also the best starter on the open market in part because it's a terrible market for free-agent starters—Craig Edwards of FanGraphs has the rundown on that.
This has gotten the trade rumor mill spinning at warp speed. A sampling of the biggest names supposedly available includes Chris Sale, Justin Verlander, Jose Quintana, Chris Archer and Zack Greinke.
With only Tanaka and Ellsbury still under long-term, big-money contracts, the Yankees have enough financial flexibility to take on any of those names. For reasons referenced above, they also have the prospect depth to work out a satisfactory deal.
But the question the Yankees are facing is the same one the Atlanta Braves have in their own search for starting pitching: Is now the right time to abandon the long game?
The point of the Yankees' sell-off was to give in to the reality that they were past due to try to build a winner from the ground up. And not a moment too soon. That's how championship teams must be built in an era that, as Neil Paine of FiveThirtyEight and others noted, is dominated by young talent.
After their summer sell-off, it's already possible to see a perennial World Series contender in the Yankees' not-so-distant future. But that vision would be disrupted if they were to take a good chunk of that young talent and send it to another team for an ace.
That would be fine if it made the Yankees a World Series contender right now. But that's a stretch. FanGraphs has them projected as a .500 team in 2017. That puts them more than just one ace away from being favorites. To get where they need to be would require trading for an ace and then making more deals or big-money signings.
Either way, the bright future that exists now would go up in smoke. And if the Yankees' efforts to win in the short term failed, they'd find themselves back at square one ready to rebuild all over again.
Which is why they should just sign Hill.
It's going to cost good money to sign him. Jon Heyman of FanRag Sports and the MLB Trade Rumors crew both have Hill pegged for a three-year, $50 million contract. But on one bright side, Hill isn't tied to draft-pick compensation. Signing him will only cost money, which the Yankees have plenty of.
On another bright side, the risk of signing him does come with enough potential reward to justify it.
He hasn't carved out that 2.00 ERA since 2015 by accident. He's been among the league's most aggressive strike-throwers with stuff that has featured more spin than any other starter's offerings, per Baseball Savant. Thus, his rate of 10.7 strikeouts per nine innings and .507 opponents' OPS over the last two seasons.
In the short term, adding Hill would give the Yankees a fallback ace in case Tanaka opts out of his contract after 2017. Whether or not that happens, Hill would also help stabilize a rotation that should be welcoming prospects such as James Kaprielian, Justus Sheffield, Chance Adams, Domingo Acevedo and Dillon Tate over the next two seasons.
In the longer term, Hill's contract would come off the books at a convenient time. After 2019, Sanchez, Austin and Judge will be arbitration-eligible for the first time and due for big raises. Presumably, even more Yankees prospects will be ready for arbitration raises in ensuing years.
The one thing adding Hill wouldn't necessarily do is put the Yankees in the World Series conversation for the next three seasons. But the attitude they must take is that staying relevant while keeping their dream of a long-term powerhouse alive would be good enough.
Hill may no longer be around by the time that powerhouse finally arrives. But if signing him proves to be instrumental in helping the team get there, the Yankees will be glad they did it.
Stats courtesy of Baseball-Reference.com and FanGraphs unless otherwise noted/linked.

Read more New York Yankees news on BleacherReport.com