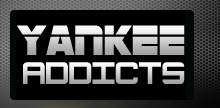 September 9, 2013 · J.J. Schoch · Jump to comments
Article Source: Bleacher Report - New York Yankees
The New York Yankees had a bit of fun with their new rookies Sunday, forcing them to dress as pop stars for their "rookie hazing."
According to Ian Begley of ESPN, Joba Chamberlain led the team as it welcomed its new rookies to MLB.
Preston Claiborne was Billy Ray Cyrus, Cesar Cabral was Rick James, interpreter Jiwon Bang was Psy, Brett Marshall was one of the dancers in Psy's "Gangnam Style" video and David Adams was Vanilla Ice.
The worst blow came for J.R. Murphy, however, as the new catcher was forced to impersonate Justin Bieber. That might be the worst hazing in sports history.
The Yankees welcomed their rookies to the team this weekend, and you can tell these guys didn't mind. Just look at those smiles.
New York's newbies should feel lucky that their hazing was this easy. We've seen rookie hazing in just about every sport imaginable, and sometimes it doesn't go all that well.
Jamaal Charles of the Kansas City Chiefs isn't exactly the nicest rookie hazer.
Not everyone hazes like Charles, though. Remember when Jurickson Profar had to dress in a bikini bottom?
Or when Mike Trout had to dress as a baby?
We all know that filling a rookie's car with popcorn has also become a bit of a tradition during hazing, and Kent Bazemore of the Golden State Warriors learned just how aggravating that can be.
Considering the Yankees are the most famous team in baseball, their hazing could have been a lot worse. These guys should feel lucky that they only had to dress up as pop stars…well, maybe not Murphy.
Read more New York Yankees news on BleacherReport.com