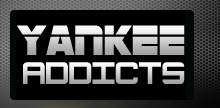 October 21, 2013 · J.J. Schoch · Jump to comments
Article Source: Bleacher Report - New York Yankees
With the Los Angeles Dodgers signing Cuban second baseman Alexander Guerrero to a four-year, $28 million deal, they are no longer in the market for Robinson Cano.
Sources: #Dodgers agreed to terms on 4-yr, $28M deal with Cuban prospect Alexander Guerrero. Potential value is $32M. http://t.co/mkcBseoZWQ

— Jesse Sanchez (@JesseSanchezMLB) October 21, 2013
The Dodgers appeared to be one of the top teams interested in Cano. Now, however, they will no longer pursue the All-Star second baseman.
Cano is known as the best second baseman in the game today, and all 30 MLB teams would love to have him. The problem is that his asking price of $305 million over 10 years is enough to scare off most teams.
Very few teams would be able to spend $20 million a year on one player, let alone $30 million. Only teams in major markets and money to spend will be able to sign Cano.
The New York Mets may have been contenders for Cano since they have such a big market, but rumor has it that the Mets will not pursue Cano.
With the Dodgers out of the mix, the few teams with a chance to go after Cano are likely the Washington Nationals, Baltimore Orioles, Detroit Tigers and New York Yankees.
However, the front-runner for Cano is New York. And it's not even close.
Now that the Yankees' main competition is now out of the race, they have a ton of leverage on Cano. No other team can pay Cano as much as the Yankees can other than the Dodgers.
The Yankees are reportedly ready to go on a spending spree this offseason, but that doesn't mean that they have to spend $305 million on Cano.
The Dodgers were the only team in the league who could have spent that much money on Cano, and with them out of the picture, the Yankees only have to out-spend the other teams going after Cano.
Cano's ridiculous asking price likely won't be met this offseason, as the only team who could come even close to giving him $30 million a year is New York. However, the knowledge that they only have to spend more than the other teams going after Cano will lead them to sign him to a contract closer to $200-250 million.
The Yankees have the most money to spend on Cano, and it's common knowledge that they want to resign him. That leaves them as the most logical choice for Cano.
Read more New York Yankees news on BleacherReport.com