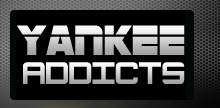 August 27, 2013 · J.J. Schoch · Jump to comments
Article Source: Bleacher Report - New York Yankees
Alfonso Soriano clubbed home run No. 400 on Tuesday night against the Toronto Blue Jays, becoming the 51st player in MLB history to reach the milestone.
The New York Yankees were hoping add a power bat to the lineup when they traded for Soriano earlier this year, and Soriano has lived up to expectations.
His first blast of the night came in the top of the first inning. With two men on and no one out, Soriano stepped to the plate with 398 career home runs to his name. He quickly changed that, however, taking the first pitch he saw from J.A. Happ deep to left field, launching a moon ball that hit the fourth deck in Toronto.
That swing was truly a thing of beauty, and one that has been in a groove since the outfielder rejoined the Yanks, as noted by ESPN:
Alfonso Soriano now has 32 RBI since joining the Yankees on July 26. Only Miguel Cabrera (34) has more over that time.

— ESPN Stats & Info (@ESPNStatsInfo) August 27, 2013
Soriano wasn't done just yet. He still had work to do as he stepped up in the top of the third inning for his second at-bat of the game.
Soriano put on another power display, although this one wasn't quite as impressive as the first:
The slugger skied the ball toward left field, and if you watch him after the ball leaves the bat you'll see that he shakes his head. However, the ball kept carrying and eventually cleared the fence by just a few feet.
His second home run of the night might not have been as nice as the first, but it was historic nonetheless:
Alfonso Soriano goes deep again for the 400th homer of his career. Have a night! #Yankees

— MLB Fan Cave (@MLBFanCave) August 27, 2013
Alfonso Soriano with two homers tonight, giving him 11 in 30 games since going to Yankees. He now has exactly 400 in his career

— Eye on Baseball (@EyeOnBaseball) August 27, 2013
Alfonso Soriano's pair of blasts tonight give him 33 multi-HR games & 400 total homers for his career! Follow his progress on #MLBTonight!

— MLB Network (@MLBNetwork) August 27, 2013
Soriano has always been a fan favorite in New York, and returning to the team certainly helped its offense. Now he is one of the best power hitters in the lineup, and fans can't get enough of it:
Alfonso Soriano. Great player? Or greatest player?

— Ryan Hillesland (@Hillesland358) August 27, 2013
Alfonso Soriano better be player of the month for August

— Kyle Wappaus (@kylewappaus) August 27, 2013
My boy Alfonso Soriano is something else son

— MikeMills™ (@M_MILLS4) August 28, 2013
Alfonso Soriano is on pace for 6 homers tonight

— Anthony Webb (@Imanthonywebb) August 28, 2013
Soriano was the hero on Tuesday night, adding a historic milestone to his already impressive career resume.
Read more New York Yankees news on BleacherReport.com