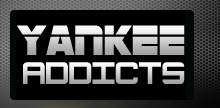 August 27, 2013 · J.J. Schoch · Jump to comments
Article Source: Bleacher Report - New York Yankees
Alfonso Soriano had himself a whale of a game on Tuesday night, clubbing a pair of home runs in his first two at-bats to reach 400 career dingers.
The New York Yankees left fielder has been on fire, and J.A. Happ and the Toronto Blue Jays could do nothing but watch as they faced him.
Soriano's first blast hit the fourth deck in Toronto and was one of the most impressive shots of the 2013 season. And while his second wasn't quite as amazing, it still cleared the fence for No. 400.
Perhaps rejoining his former team sparked Soriano's torrid pace, as he's been unstoppable since joining the Bronx Bombers.
Alfonso. Soriano. ON. FIRE. His SECOND home run tonight is No. 400 for his career. He has 11 HR in 30 games since joining Yankees.

— SportsCenter (@SportsCenter) August 27, 2013
Alfonso Soriano now has 32 RBI since joining the Yankees on July 26. Only Miguel Cabrera (34) has more over that time.

— ESPN Stats & Info (@ESPNStatsInfo) August 27, 2013
Soriano has become one of the best hitters in the game since he came back to New York, but how will that affect the rest of his career?
Let's take a look.
Can He Hit 500 Career Home Runs?
After becoming the 51st player in MLB history to blast 400 career home runs, Soriano will look to join the 25 men who have blasted 500 dingers.
At 37 years old, it will be hard for Soriano to hit another 100 home runs. Obviously he still has a great deal of power, as we've seen over these last few weeks. However, he will eventually begin to decline as he reaches the age of 40.
Only Miguel Cabrera has more homers than Alfonso Soriano since the All-Star Break.

— Yankeesource (@YankeeSource) August 28, 2013
Alfonso Soriano is a saving grace for #yankee fans everywhere.

— A$AP RINE (@Nicholas_Rine) August 28, 2013
Let's take a look at Soriano's home run progression over the last several years.
| | | | |
| --- | --- | --- | --- |
| Year | Age | Games Played | Home Runs |
| 2009 | 33 | 117 | 20 |
| 2010 | 34 | 147 | 24 |
| 2011 | 35 | 137 | 26 |
| 2012 | 36 | 151 | 32 |
| 2013 | 37 | 123 | 28 |
As you can see, Soriano has been hitting more and more home runs since 2009, when he was dealing with injuries. He has been defying father time and has looked like he's 28 again over these past few seasons.
For the sake of argument, let's assume that Soriano hits another eight home runs this season. That will put him at 408, which is 92 home runs shy of the 500 mark.
Hitting 92 home runs after turning 38 years old is tough to do. Babe Ruth couldn't do it. Neither could Willie Mays, Ken Griffey Jr. or Jim Thome. Mickey Mantle only hit 82 home runs over his last four seasons, and he was only 33 at the time.
Obviously, staying in the American League as a designated hitter for a few years will help Soriano. And playing in the launching pad known as Yankee Stadium next season can't hurt, either. However, he will likely still fall just short of 500.
Will He Be Elected into the Hall of Fame?
Soriano's ultimate goal is to be elected into the Hall of Fame, and he has a good chance of getting there.
His power certainly sets him apart, but what makes him so special is his combination of speed and power.
With 285 career stolen bases, Soriano is only 15 away from 300. He could easily swipe another 15 bags in his career, as he's already matched that this season. Once he reaches 300, he will become just the fifth player in history to reach 400 home runs and 300 stolen bases, joining Barry Bonds, Andre Dawson, Mays and Alex Rodriguez.
The seven-time All-Star might not have racked up MVP trophies, but he has always been among the game's best, and his four Silver Slugger awards help prove it.
No one knows if Soriano will be elected. However, he has a good chance to join baseball's greatest in Cooperstown.
Read more New York Yankees news on BleacherReport.com