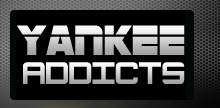 September 11, 2013 · J.J. Schoch · Jump to comments
Article Source: Bleacher Report - New York Yankees
Derek Jeter's 2013 season is over after just 17 games, but his career won't end just yet.
The New York Yankees have essentially lost their shortstop for the year after he was placed on the DL on Wednesday with just 17 games left in the season.
THIS JUST IN: Derek Jeter heading back to DL, effectively ending his season. Yankees SS played just 17 games this year.

— SportsCenter (@SportsCenter) September 11, 2013
After dealing with injuries all year, Jeter's shortened season is already over.
The captain started the year on the shelf because of his fractured ankle. He didn't return until July 11, but he ended up injuring himself again.
"The entire year has been pretty much a nightmare for me physically." — Derek Jeter pic.twitter.com/hf7vlmkOsU

— Bryan Hoch (@BryanHoch) September 11, 2013
Jeter has been plagued by injuries ever since he first came off the DL, but this appears to be the final straw. The Yankees would need to mount a comeback and make it into the postseason for Jeter to have a chance to return, which could be problematic.
The team was prepared for the worst, however, as the Yanks went out and added defensive-minded Brendan Ryan from the Seattle Mariners earlier this week.
Jeter had a disappointing year in all aspects, as he will miss 145 games and he batted just .190 with one home run. However, he needs to pick up his $8 million player option for the 2014 season.
His Hall of Fame career simply can't end like this. He is one of baseball's greatest heroes, and to see him limp into the sunset would be a huge disappointment for fans and himself.
We know that the Yankees captain is among the most competitive players in the history of the sport, and he won't be happy if his career ends with a season cut short by injury.
What's more, Jeter will likely want to go out in a similar style to that of Mariano Rivera.
After tearing his ACL last season, it looked like Rivera's career could have been over. However, he came back for his Farewell Tour and is in the midst of one of the greatest seasons of his career at the age of 43.
As a fan favorite, Jeter will likely want to say goodbye to his teammates, his opponents and the fans, and doing so after an injury would be torturous for him.
Jeter expects to play in 2014: "You don't start thinking about the end just because you have an injury."

— Bryan Hoch (@BryanHoch) September 11, 2013
Jeter clearly knows that this isn't his time yet. Even with another injury cutting his season short, he isn't focusing on his retirement, and he sounds determined to get back in the saddle.
People around Jeter are all expecting him to be back for next year. Yankees manager Joe Girardi knows that Jeter is going to work his butt off to get back on the field.
Girardi: "I just know he's going to do everything in his power to get back in that field for spring training."

— Mark Feinsand (@FeinsandNYDN) September 11, 2013
Yankees GM Brian Cashman went one step further, making the claim that we have not seen Jeter on the field for the last time.
Cashman on Jeter: "I have not watched his last game. No one has."

— Bryan Hoch (@BryanHoch) September 11, 2013
Unfortunately, Jeter has played his last game alongside Mo. The two have been staples in New York for years, but now they will not play another game together once Rivera retires at the end of the year.
It just occurred to me: Derek Jeter and Mariano Rivera will never play another regular-season game together.

— Mark Feinsand (@FeinsandNYDN) September 11, 2013
Fans obviously haven't seen enough of Jeter. He is the heart of the team, and fans would go to extreme lengths to make sure he keeps playing.
I will donate whatever Derek Jeter needs to get back on the field

— Steve Guarino (@SteveGuarino) September 11, 2013
It's going to be weird when Jeter finally does retire, but we can rest assured that it won't be this year.
I miss Derek Jeter already.

— Sean Hojnacki (@TheRealHojnacki) September 11, 2013
With Jeter having a desire to play and the ability to do so, we'll likely see him with the Yankees again in 2014.
Read more New York Yankees news on BleacherReport.com