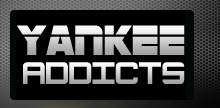 September 25, 2013 · J.J. Schoch · Jump to comments
Article Source: Bleacher Report - New York Yankees
The New York Yankees have been officially eliminated from playoff contention after 157 games.
This marks just the second time in the wild-card era that the Yankees have failed to make the postseason, as MLB's most successful franchise will have to watch the playoffs from home this year.
Yankees are officially eliminated from postseason with Cleveland's win over Chicago. Just 2nd time in 19 years NY has missed playoffs.

— SportsCenter (@SportsCenter) September 26, 2013
The Yankees will try to avoid repeating their mistakes in 2014, but it won't be easy. The team is due to lose some of its best players, and steps must be taken to improve the team enough to ensure that it will be playing in October next season.
Re-Sign Robinson Cano, Hiroki Kuroda
The first move for the Yankees this offseason is to hang on to a few key pieces.
Robinson Cano was easily the team's best hitter this season, leading New York in batting average, home runs, RBI, on-base percentage, slugging, OPS and extra-base hits among other categories. If you can think of it, Cano led the team in it.
The Yankees offense struggled mightily this year, but Cano was always there to help out. He was the one constant that the team had, and losing him would be devastating. The Yankees must make sure that they offer Cano a contract he simply can't refuse.
Cano isn't the only big name that will hit free agency this offseason. Hiroki Kuroda will also be able to test the free-agency waters if he so chooses, and the team can't let him get away.
Kuroda was arguably the team's best starting pitcher this season. He led the team's starters in ERA and WHIP and had an even better year than CC Sabathia.
After the success Kuroda enjoyed this season, it'd be crazy to let him walk.
The Yankees need to make sure these two key players are still on the team in 2014, but there are some players on the team who can't be brought back after the season.
Find a New Closer
Mariano Rivera's legendary MLB career will come to an end this year, following a historic retirement tour.
Mo is the best closer in the history of the game, as evidenced by his 652 career saves, an MLB record. He has been the closer for the Yankees since 1997, but the team must find a new guy to finish games in 2014.
The only other players to record a save for the Yankees this season were David Robertson, Adam Warren and Joba Chamberlain.
Of those three, Robertson would be the clear favorite to save games next season. His 92.3 mph fastball complements his nasty curveball nicely, which dipped as low as 77.1 mph this season, according to FanGraphs.
However, Robertson saved just two of his four opportunities this year.
He has yet to prove that he has what it takes to be an MLB closer, and the team may have to look outside the organization to replace Rivera.
Make an Offseason Splash
The Yankees need to find a new closer, and they may need to do so by signing a free agent.
The team is losing a lot of talent at the end of the year, which is exactly why it needs to improve via free agency.
It might be difficult for the Yankees to add big-name guys, however, as owner Hal Steinbrenner has said that he wants to cut the team's payroll below the $189 million luxury-tax threshold by 2014, according to David Waldstein of The New York Times.
I'm looking at it as a goal, but my goals are normally considered a requirement. Is it a requirement with baseball that we be at 189? No, it's not a requirement. But that is going to be the luxury tax threshold, and that's where I want to be.
According to Deadspin, the team had a payroll of $228,995,945 entering the season, which is just under $40 million over the luxury-tax threshold. That means the team is going to have to tighten its wallet quite a bit while still looking for free agents to sign.
The Yankees have several contracts that are about to expire, including those of Rivera, Cano, Kuroda, Curtis Granderson, Andy Pettitte, Kevin Youkilis, Phil Hughes, Boone Logan, Travis Hafner, Lyle Overbay, Joba Chamberlain and Mark Reynolds.
With the money from those contracts gone, the team will have a nice chunk of cash to play with, but it will also have to re-sign guys like Cano and Kuroda, among others.
The team will still have to make at least one big free-agent signing this offseason, and it will likely go after Jesse Crain of the Tampa Bay Rays.
Crain posted an ERA of 0.50 in his first 37 appearances of the season. He was the most sought-after reliever on the trading block this year, and he will become available at the end of the season.
The Yanks might attempt to convert Crain from a setup man to a closer to fill the vacancy left by Rivera, making Crain a top target.
The team will also have to look at cheap options like Michael Young and Carlos Ruiz.
New York was linked to both of these guys earlier this season, per CBS Sports' Jon Heyman, and could attempt to pursue them once again as low-risk options for 2014.
Outside of Crain, Young and Ruiz, the team should be trying to land another big-name free agent along with Cano. Guys like Ervin Santana and Carlos Beltran might be on its radar, but trying to sign them to deals that keep the team under $189 million may prove to be impossible.
No matter who the team goes after this offseason, it needs to make sure it can replace the talent lost to free agency and retirement.
Get Back on Lady Luck's Good Side
Frankly, no team can make it to the postseason without a bit of luck.
The Yankees ran into some bad luck this year in the form of numerous injuries. Guys like Youkilis, Granderson, Travis Hafner, Mark Teixeira, Alex Rodriguez and Derek Jeter were all out for extensive periods of time. The Yankees were left with a depleted lineup consisting of no-names and poor excuses for injury replacements.
Another injury-plagued season like this one could hurt the Yankees again next season, and the team won't be able to make it back to the postseason without a little bit of luck.
Only time will tell if the team can avoid such an unlucky season next year, and it remains one of the biggest factors for its success in 2014.
Read more New York Yankees news on BleacherReport.com