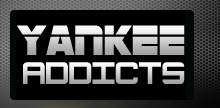 August 20, 2013 · J.J. Schoch · Jump to comments
Article Source: Bleacher Report - New York Yankees
We could be witnessing history every time we watch New York Yankees second baseman Robinson Cano step up to the plate.
The 30-year-old slugger blasted his 200th career home run Tuesday against the Toronto Blue Jays, taking Esmil Rogers deep to center.
Cano launched the ball a staggering 426 feet for a three-run home run to reach the milestone, becoming just the 14th second baseman to do so.
DON'T YA KNOW! Robinson Cano hits 200th career home run, a 3-run blast vs. Blue Jays. He's the 14th 2B to reach that mark.

— SportsCenter (@SportsCenter) August 20, 2013
What's more, Cano is just the third second baseman in history to reach 200 home runs and bat .300 or higher over the course of a career, joining Roberto Alomar and Rogers Hornsby.
Congratulations @RobinsonCano on being 1 of 3 to hit 200 HR's and a .300 career avg as a 2nd baseman. #SpaldingProStaff #NY #Yankee #HOF

— Spalding (@Spalding) August 20, 2013
It's rare to find a second baseman with such a great combination of contact and power, which is what makes Cano such a a special player. He is a future Hall of Famer, but is he also a future record holder?
Jeff Kent set the mark for most career home runs by a second baseman with 377 over his incredible 17-year career. He surpassed Hornsby's previous mark of 301 without a problem, but left future second basemen with a tall order.
Cano could be just the man to take down Kent's record, and, barring injury, he has a good chance to do it.
Cano has an edge on Kent in the fact that he entered the majors much earlier than Kent did. Cano started playing for the Yankees age 22, whereas Kent didn't make his MLB debut until age 24.
At 30 years old, Cano already has a big advantage on Kent in terms of home run numbers. Just take a look at their stats by the age of 30 side by side.
| | | | | |
| --- | --- | --- | --- | --- |
| Player | GP | AB | HR | AB/HR |
| Jeff Kent | 894 | 3,231 | 138 | 23.41 |
| Robinson Cano | 1,337 | 5,190 | 200 | 25.95 |
As you can see, Cano has the edge in playing time and home runs. However, Kent was hitting home runs at a more accelerated pace.
Despite Kent hitting home runs faster than Cano, the fact that Cano had such a head start in terms of playing time gives Cano a 62 home run lead at the age of 30—and he still has up to 39 more games to play before he turns 31.
What helped Kent break Hornsby's record so handily was his longevity. Kent really caught fire after the age of 30, blasting another 239 home runs. He wasn't even named an All-Star until he was 31, he didn't win his MVP award until he was 32, and his fourth and final Silver Slugger award came when he was 37.
Kent had nine 20-plus home run seasons after he turned 30, including all three of his 30-plus home run seasons.
Cano has been tearing it up in the bigs thus far, but to ask him to get even better in his 30s is just ridiculous. He has been playing well, but very few second basemen can hold up as long as Kent did, and it's unlikely that Cano will continue to slug homers until he's 40.
Let's assume for the sake of argument that Cano plays another eight seasons. Tack on another 39 games this year and use his career average of 151.8 games per year (excluding 2013), and that leaves him with 1,253 games to hit another 178 home runs to break the record. That's one home run per 7.04 games, which is just slower than his current pace of one per 6.69 games.
If Cano hits another six home runs this year, he'll be at 206 and just 172 short. Over eight years he'd have to average 21.5 home runs per year to break the record. While it's unlikely that he smacks 22 dingers at the age of 38, a progression like this is not out of the question: 28-28-26-25-23-20-18-14. That adds up to 182 home runs, which would break the record by 10 home runs.
It's unclear whether or not Cano will break the record, but he certainly has a shot. No matter what happens, Cano's battle with Kent for the most career home runs by a second baseman will come down to the wire, and every at-bat will count for the slugger over the rest of his career.
Read more New York Yankees news on BleacherReport.com