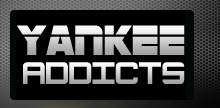 News published by
June 19, 2009
Derrek Lee hit two homers on the day today, bringing his season total to ten. Anyone who has read this blog at all knows that I am very anti-D-Lee. He ...
June 18, 2009
Magglio Ordonez has been benched indefinitely by manager Jim Leyland because of this ridiculous slump that he has been in basically all season long.   You can expect him to ...
June 18, 2009
Corey Hart is really looking like he is back on track and should certainly be back in your lineups. He hit his ninth homer of the season tonight, and in ...
May 28, 2009
Rick Porcello now won his fifth straight start, and has now become a serious, consistent major league pitcher at age 20.  He is now 6-3, and he has allowed two ...
May 20, 2009
Dontrelle Willis was rolling again tonight for the first time in a long time.  The D-Train went 6.1 innings, allowed just one hit, walked just two, and struck out five. Now, while ...
May 18, 2009
Mark Teixeira is starting to heat up again.  Teixeira had his second two homer game of the season and has finally hit double digits in power.  He has also raised ...
May 14, 2009
Cole Hamels pitched well again, and perhaps now he has put those nagging injuries behind him.  Hamels allowed just one earned run over seven innings, walked just one, and struck ...
May 2, 2009
Jorge Posada continues his resurgence in 2009, as he connected with home run number five.  I know it was an injury plagued year for him in 2008, but he only ...
April 22, 2009
Are you starting to worry about Francisco Liriano?  I am not ready to pull the plug yet, but the red flags have certainly gone flying up.  Liriano was below average ...