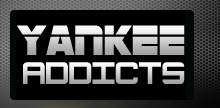 June 18, 2009 · Ryan Hallam · Jump to comments
Article Source: Bleacher Report - New York Yankees
Corey Hart is really looking like he is back on track and should certainly be back in your lineups. He hit his ninth homer of the season tonight, and in the last week has three homers, ten RBI, and has raised his batting average twenty points. Another 20/20 season looks well within reach. He will have to pick up the pace on the stolen bases, but he is finally looking like a guy you can trust again.
J.J. Hardy was slumping worse than Hart, but he also had a good night on Wednesday. Hardy was a shortstop that I was high on if you couldn't get one of the elites in the early part of the draft. He was a SS that averaged over 20 homers in the past two seasons.But he is hitting below .220 and has just six homers including his one tonight.
I still have held him on any team that I drafted him on, even if he isn't starting for me. I think he is due for a good second half. Can't say I would grab him if available right now, but I would certainly be monitoring him over the next week to ten days.
Scott Richmond is impossible for me to figure out. Every time that I am ready to tell everyone to send him packing to free agency, he has an outing like he did tonight. Richmond pretty much either gives up one run or five runs. On Wednesday he allowed just one earned run over eight innings and struck out a season high eleven. I am still not a Richmond fan, although he has had some pretty good outings.
If you own him, obviously continue to pitch him, but I would always be looking to see if someone in your league would want to trade for him.
Was that enough for Chien-Ming Wang to remain in the Yankee rotation? It doesn't really matter for his ownership, but if he was jettisoned to the bullpen that would open up a rotation spot for Phil Hughes. It was laid out to Wang that if he wasn't better in his outing on Wednesday that he would be out of the rotation.
Not sure exactly what they Yankees were looking for, but he was certainly better. Wang did take a loss, but he allowed just three runs over five innings, walked just two and struck out four. Everything about the start was better than where he has been, although I would think you might have expected more against the horrible Nats. Wang fell to 0-5, but he did lower his ERA to 12.65.
My guess is that he gets another start.
Yunel Escobar is going to crush his statistics from last season, as long as he can stay healthy. Escobar has had trouble doing that over the past few seasons, but he has already met his stolen base number from 2008, his seven home runs are only three shy of last year's total, and he's more than halfway to his RBI number.
At worst, Escobar should be on your bench, but I believe he has been good enough to be a utility player or maybe a starting shortstop. I wouldn't love to count on that without having a reliable backup, but Escobar is doing quite well.
Hunter Pence isn't getting much love from fantasy players this season, but I'm not quite sure why. He hit his ninth home run of the season on Wednesday, and he is also hitting a scorching .328. He's a little behind pace to match his 25 home runs from 2008, but he is hitting for a tremendous average, and nearly has matched his stolen base total from last season.
Be sure you have Pence in your lineup going forward.
Andrew McCutchen hit his first major league home run and has kept up the torrid start to his major league career. McCutchen continues to get at least one hit in every game, and if you own him, he should likely be in your starting lineup. If you are in a keeper league and he is still available, what the hell are you waiting for? Grab the kid!
Francisco Liriano fell to 2-8 on the season, but there were some positive signs from him. Liriano pitched seven innings, and he hasn't gone that deep into a game since May 4th. He only walked one, which he hasn't allowed less than two over his last four starts. Things are improving for Liriano, even if it is in small steps.
Keep throwing him out there if you own him, and if he is available in your league, I would likely try to find a roster spot for him. Like I've said many times, that rookie season impact isn't coming back, but he should be a better than average pitcher.
Colby Rasmus is giving the Cardinals what they were hoping for when they gave him a starting job out of Spring. Sure, he is striking out a little more than you would like, but it isn't like he is on Mark Reynolds level with the Ks. With his two RBI on Wednesday, Rasmus is up to 26 on the season, and he has driven in six runs in the last five games.
In a keeper league he is a must-have, but even in a seasonal league he at least is worth a bech roster spot.
Josh Whitesell has been much better since being recalled again from the minors, and while he isn't hitting for power, he is driving in runs at a nice clip. In the last week, Whitesell has driven in nine runs, and his average has gone up nearly 100 points. Of course it was right around .100 so it isn't like he had anywhere to go but up. He was hitting for great power in the minors, but has yet to hit his first major league tater.
I wouldn't grab Whitesell yet, but I would definitely keep an eye on his progress. If he starts hitting for power, that is exactly what the doctor ordered in Arizona.
Jose Lopez continues to stay hot and has become someone you can trust in my opinion. After tonight's home run, he has five in the last week, along with 13 RBI. He obviously can't keep that pace up, but outside of his average, he is looking like he could meet, or perhaps surpass last season's great numbers.
If he is still available in your league, I would certainly pick him up.
Mailing List
I'm not going to stop bringing up the mailing list until I get a day where I don't get a request to join it. For those of you who haven't seen it yet, when I find news earlier in the day I will send an email to you about whatever it might be. If you were on the mailing list you would have found out about the callups of Matt Wieters, Fernando Martinez, Nolan Reimold and others. The trade of Nate McLouth, and injuries to Jose Reyes, etc. This mailing list is your way to get a step up on your competition. Anyone who is on the list, please leave a comment below on whether you think that you have benefitted from the list. Send an email to either fantasybaseballtonight@gmail.com or fightingchancefantasy@gmail.com and put Mailing List in the subject line.
As always, your comments and questions are welcome at fightingchancefantasy@gmail.com. I guarantee a response within 18 hours. Also, don't miss the "Fantasy Baseball Tonight" podcast four nights a week from Monday-Thursday. The Big Show on Wednesday is co-hosted by Todd Farino of fantasybaseballsearch.com, RC Rizza of junkyardjake.com and myself, Ryan Hallam at fightingchancefantasy.com. To hear the show go to www.blogtalkradio.com/the_true_guru. You can also hear me weekly on the Tuesday Night show. Join me with Jeff Mans every Tuesday night at 10pm EST for all the the info and craziness we can pack into one hour. A can't miss if you plan on winning your league.