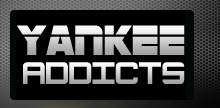 April 22, 2009 · Ryan Hallam · Jump to comments
Article Source: Bleacher Report - New York Yankees
Are you starting to worry about Francisco Liriano? I am not ready to pull the plug yet, but the red flags have certainly gone flying up. Liriano was below average again today, gave up seven runs over just four innings, and walked four. He did strike out six, but this is very concerning. Liriano started out slow last season, which makes you feel a little better because he did get hot later in the season. But it is time to start wondering……will those rookie season numbers ever come back? I still think he can be an above average major league pitcher, but that electric stuff might be gone.
Cliff Lee threw his second consecutive quality start as he looks to rebound back to his form from 2008. He was saddled with the loss, but he only allowed two runs over eight innings and struck out five. It was the deepest he has gone into a game this year, and the third time he struck out five hitters. He has now only allowed three runs in his last two starts, and although I don't believe he will win 20 games again, he shouldn't fall apart in 2009.
Is the Pirates' pitching staff for real? Paul Maholm ran his record to 3-0 to start the year as the Pirates swept the Marlins. Maholm wasn't great as he allowed four runs over six innings and struck out four, but you can't ignore this guy's start. Actually, change that. Ignore this guy's great start. I just don't see it lasting. If you have him, I would try to shop him around and get the most for him that you can.
Nyjer Morgan continues to be a nice new source of stolen bases. Morgan stole two more today, bringing his season total to six. He has also been an effective leadoff hitter, batting .323 and driving in nine runs. If your team is in need of speed, Morgan is a great option to pick up.
Beware the Melk-Man. Yankees' outfielder Melky Cabrera connected on two home runs today, including the game winner in extra innings. That is now four homers in the last week for Cabrera, but do yourself a favor and don't go running to the wire for him. Even with the injury to Xavier Nady, Cabrera is a fourth outfielder for the Yankees, and unless you are in a real deep AL-only league, isn't worth the roster spot.
In three of his four starts, C.C. Sabathia has walked more hitters than he has struck out. He was able to wiggle out of it some before, but today it cost him. Sabathia allowed six earned runs over 6.2 innings, walked four, and struck out only two. Those of you who were expecting his Milwaukee production this year must be pulling your hair out. But let me remind you again that he was awful last year in the beginning and nearly won the Cy Young in a league he was only in for a few months. I still don't think he repeats his work in the NL, but I don't envision this kind of inconsistency all season.
After he was supposed to miss a few games, Brian McCann was back in action for the Braves on Wednesday. McCann got a corrective lens to try to correct his blurred vision, and was supposed to miss a few days to get used to it. It is a great sign that he was back today, and hopefully this new lens will correct the horrible slump he has found himself in.
Rookie Dexter Holland got into his first game tonight, and was impressive in his first action. Holland threw 2.1 shutout innings out of the bullpen, while walking none, and striking out two. This kid has a world of potential, but his value is limited while he is still pitching out of the 'pen. The day you hear he will start a game, he should be worth picking up.
Andre Ethier continues his early season onslaught. The young Dodgers outfielder hit his fifth home run of the year, and has now driven in 17 runs. You might be thinking I am going to say sell high, but I actually like Ethier a lot this year. Obviously, he is going to have to slow down, this pace would set records, but I believe he will flirt with 100 RBI and 20-25 homers.
White Sox rookie Chris Getz has given you more than you could have asked for so far. After his three hit game on Wednesday, Getz is now hitting .316 with five RBI and two stolen bases. He won't give you elite production at second base, but as a bench option or perhaps in your middle infield position he is worth a look.
Jose Valverde will miss "a few games" after being hit with a batted ball on Tuesday and 324-year-old LaTroy Hawkins collected the save on Wednesday for the 'Stros, but don't expect Valverde to be out too long, he should be back over the weekend unless something changes.
As always, your comments and questions are welcome at fightingchancefantasy@gmail.com. I guarantee a response within 18 hours. Also, don't miss "The Fantasy Baseball Gurus Show" every Wednesday night at 10pm EST on Blog Talk Radio. The show is co-hosted by Todd Farino of fantasybaseballsearch.com, RC Rizza of junkyardjake.com and myself, Ryan Hallam at fightingchancefantasy.com.
To hear the show go to www.blogtalkradio.com/the_true_guru. The Fantasy Baseball Scouting Report is also back! Join me with Jeff Mans every Tuesday night at 10pm EST for all the news, free agent pickups, minor leaguers, and injuries. A can't miss if you plan on winning your league. I also just met the people over at Baseball Trade Rumors and I invite you to visit their site. They have a page for rumors for every major league team, constant updates on the latest rumors, interactive polls, and overall some great content.