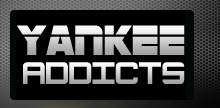 May 14, 2009 · Ryan Hallam · Jump to comments
Article Source: Bleacher Report - New York Yankees
Cole Hamels pitched well again, and perhaps now he has put those nagging injuries behind him. Hamels allowed just one earned run over seven innings, walked just one, and struck out nine. Even when he was getting hurt (sprained ankle, getting hit by a batted ball), he was still pitching well at the time of the injury, so I expected him to do well when he was healthy. Hamels looks like he is back to the elite level, but you always have that injury concern in the back of your mind.
Brad Lidge is not the same guy we saw in 2008. After his appearance today, he has now allowed one earned run or more in five straight times to the mound. He never allowed runs in more than two consecutive appearances last season. His ERA now sits at 8.59, and he is not striking guys out nearly as much as he did last year. He could be a sell before it's too late candidate. I'm not sure what kind of year he is going to have.
Justin Verlander continues to shine. Not only did he allow just two earned runs in 6.1 innings, but he struck out 13 Twins against just three walks. That is now three straight starts that he struck out over 10 hitters, and the one before that he racked up nine Ks. After an atrocious start, he has his ERA almost down to 4.00, and it looks like the dominant Verlander is back in business.
Matt Harrison threw his second consecutive complete game on Thursday, although this one wasn't a shutout. He had an OK, but not spectacular, minor league career, so I don't know how long this will last. He is worth picking up while he's hot, but don't drop anyone too good. I think this thrill ride will be over soon.
Has Wandy Rodriguez actually become ownable? He hasn't allowed more than three runs in any start this year, and his ERA is under 2.00. He has also struck out 48 batters in just 52 innings. He has had flashes of this in other years before, but this is the longest he has ever gone this well. I would try to add Wandy if you need a pitcher, but he also has had some injury trouble over his career, so watch out for that as well.
Ervin Santana returned to the Angels' rotation tonight, and considering how long he was out, he didn't pitch half bad. Santana allowed three runs over five innings against the Red Sox. He also walked three and struck out five. I had my doubts about Santana being able to repeat last year's numbers before he was injured, but it is good to see him back. I was expecting much worse, figuring without a Spring Training he would be fairly rusty and his arm strength might not be there. I'm sure he would like the results to be better, but they could have been worse.
Is Scott Baker going to come back to the form from last year? He has given up four or more runs in all of his starts except for one this season, and his WHIP is up more than a little from last year as well. His strikeouts have remained at about the same level, which is nice, but his ERA is near 7.00 and that is unacceptable. I don't think you can start him right now, and he is in danger of getting to that 'time to drop' level.
Mat Gamel came into the game tonight as a pinch hitter and struck out. Outside of the upcoming interleague play, I think he will struggle for any sort of regular playing time.
Prince Fielder is fully hot right now. He connected on homer No. 8 tonight, giving him three in the last three days, and he has driven in 14 runs in the last ten games. For those of you who were worried about him and his production, it appears he is back on the right track.
Julio Lugo was 5-6 on Thursday, but he has struggled some since returning from injury. Lugo is the kind of player who will give you 8-10 homers and 15 or so steals, but isn't a great fantasy player. He is OK if you have a middle infield option, but better served as insurance on your bench.
Injury News
Jose Reyes was not in the lineup tonight due to a tight calf. I think he could have played, but after a long flight they figured it was better to give him a day off. Put him back in your lineup tomorrow.
Erik Bedard is likely to miss his start on Saturday due to a tight right hamstring. This decision is not even final yet, so it doesn't seem like this is anything serious at all. But given the injury history of Bedard, you have to be slightly nervous. If I hear the final decision tomorrow I will let you know.
Tim Redding is going to join the Mets rotation will start this coming Monday against the Dodgers. I don't see him having any fantasy value this year, so just leave him alone. Even though he is a two start pitcher.
Troy Tulowitzki says that he will be back in there for Colorado on Friday, two days after being hit in the elbow on Wednesday. Tulo apparently lost feeling in his fingers, but had it back by Thursday morning. He was just kept out of the lineup as a precaution, but is expected back tomorrow.
Derek Jeter was back in the lineup tonight for the New York Yankees. He was 1-5 with an RBI single.
Dustin Pedroia returned to the Red Sox lineup today and went 4-5 with two doubles and an RBI. If you didn't already, get the AL MVP back in your lineup for tomorrow.
New Feature
For those of you who are regular readers, I would like to offer a new service. I am starting a mailing list. Sometimes I see news during the day, but I wait until this nightly article to pass it along to you guys. Prospects coming up, injury news, closer movement, etc. Just send me an email to fightingchancefantasy@gmail.com with "Mailing List" in the subject line and I will add you to the list. Then, whenever I find news that I feel is breaking and important, I will send it to you as soon as I find out about it. Hopefully this is something that you all will find valuable to make a possible move before your competition.
Also, you can now follow me on Twitter for more updates. Go to www.twitter.com/fightingchance.
Attention League Commissioners! If you are looking to spice up your league some, go and visit Fantasy Sports Trophies. Tom Harkins has put together a great site with all kinds of different trophies to give the winner of your league something besides just bragging rights. There are trophies for fantasy baseball, football (check out the Beer League Fantasy Football Trophy), basketball, hockey, and auto racing. I invite you to take a look at the site and try them out.
I'm also going to start mentioning the Fantasy Windup with Steve Gardner over at the USA Today again. His blog is updated many times each day, and is always covering the stories you are talking about when it comes to fantasy baseball. Go check out the blog and be sure to leave him some feedback.
As always, your comments and questions are welcome at fightingchancefantasy@gmail.com. I guarantee a response within 18 hours. Also, don't miss "The Fantasy Baseball Gurus Show" every Wednesday night at 10pm EST on Blog Talk Radio. The show is co-hosted by Todd Farino of fantasybaseballsearch.com, RC Rizza of junkyardjake.com and myself, Ryan Hallam at fightingchancefantasy.com. To hear the show go to www.blogtalkradio.com/the_true_guru. The Fantasy Baseball Scouting Report is also back! Join me with Jeff Mans every Tuesday night at 10pm EST for all the news, free agent pickups, minor leaguers, and injuries. A can't miss if you plan on winning your league.