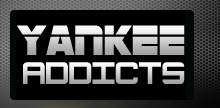 May 2, 2009 · Ryan Hallam · Jump to comments
Article Source: Bleacher Report - New York Yankees
Jorge Posada continues his resurgence in 2009, as he connected with home run number five. I know it was an injury plagued year for him in 2008, but he only hit three all of last year. Posada had a ton of question marks heading into this season after offseason shoulder surgery, and there was even concern about how many games he was going to be able to play. But he has answered them all positively so far this year, and is playing as perhaps the top catcher in fantasy up to this point.
Although he wasn't bad today, C.C. Sabathia still hasn't had that dominating outing that the Yankees were hoping for when they made him the highest paid pitcher in the history of baseball. Sabathia fell to 1-3 today, after allowing four earned over 6.2 innings, and struck out five. The good news for C.C. is the control problems that have plagued him all season long were not a factor, as he only walked one guy. You have to believe that sooner or later he will flip the switch and be an elite fantasy pitcher, but through the first month it hasn't happened yet.
Nationals rookie Shairon Martis improved to 3-0, bouncing back nicely after allowing seven runs his last time out. Martis went the distance against the red hot St. Louis Cardinals, allowing just one run, striking out six without walking anyone. He had more walks (11) than strikeouts (7) coming into this start, so I'm not sure exactly what to expect in the future. But I do know this. He has started five times, and in four of those, he has allowed three runs or less. Of course, the Cards did give Albert Pujols the day off today, but you still can't take the credit a complete game deserves from the guy.
Adam Jones looks more and more like a star everyday. With three hits on Saturday, Jones pushed his average to .371 on the year, connected on his fifth home run, and stole his third base. He won't be turning 24 until August, meaning that there is still room for improvement. You think the Mariners regret that Erik Bedard trade?
Curtis Granderson is hitting home runs like it is going out of style. With another tater today, Granderson now has six in the last ten games, and eight on the season. He still isn't hitting for a very good average (.263), but the power helps you forget it. Just a word of caution. Granderson's career high in homers is 23, so don't expect this power surge to go on for too much longer. He should make a good run at his best, but don't think he's going to hit 35 this season.
Joel Zumaya has been good since his return, but he hasn't been the dominant pitcher that we remember. He got the win today by pitching 1.2 shutout innings, allowing just one hit. In three appearances since his return, Zumaya has pitched 4.2 innings, allowed just four hits and hasn't walked a batter. The concerning part is that he has struck out only two guys. His rookie season he struck out 97 guys over 83 innings. However, he has only just returned from multiple years of injury. Be patient, he could still help you this season.
Jason Marquis ran his record to 4-1 with a 3.31 ERA after throwing a complete game on Saturday against the Giants. Marquis allowed just one run and struck out four. If you are considering picking up Marquis, please reconsider. He hasn't had an ERA under 4.00 since 2004 when he was with the Cardinals. His strikeout ratio is ugly. Over the last two seasons, he has pitched 358 innings, and struck out just 200. There MUST be a better option out there for you.
Kendry Morales is doing his best to replace Mark Teixeira. Morales was 2-4 today, hit his fourth homer of the year, and now has 16 RBI. He is hitting .280 on the year, and has been fairly consistent through the first month of the season. How's he doing in comparison to Tex? Morales is hitting .280, Tex .182. Morales has four home runs, Teixeira has three. RBI? Morales leads 16 to 10. Do I really think that he will outperform him for the year? Not a chance. But I do think that Kendry could hit 20-25 with 80 RBI or so, with a batting average around .270.
You heard about him first on Fantasy Baseball Tonight, the Tuesday podcast from Jeff Mans, and Adam Rosales is not only in the majors, but is hitting like crazy. In three games, Rosales has five hits and driven in three runs. If he keeps performing like this, I don't see any reason he gets sent back down to the minors. Of course, if he could continue to perform like this he would have a .500 batting average, so we all know that isn't going to happen. He showed some OK power with not a ton of speed while in the minors. Not a real high ceiling, but could get to 17 or so homers.
I promise that this is the last time I write about Oliver Perez. What a steaming pile of dung this guy has turned into. I have no idea what his issue is. The guy has talent, you can't argue that, but he has absolutely no idea how to use it. They have said here in New York on talk radio that the Mets resigned him because of the way he has been able to pitch in good games against their rivals. Well, today against the Phillies he was unable to get out of the third inning, but threw 77 pitches. Perez allowed four runs and walked SIX over 2.1 innings. I don't care if he goes out next time and throws a gem. You won't hear about it on this site.
Ted Lilly was his usual consistent self again. Lilly will get blown up from time to time, but three times out of four he is pretty rock solid. On Saturday, Lilly allowed just one run over eight innings, and struck out ten. He even doubled in two runs. Lilly has now given up five runs in two of his starts, and in the other three he allowed a total of one run. You generally know early on what kind of stats you are going to get from him.
Congratulations to Cardinals' rookie Colby Rasmus for connecting on his first major league home run. Rasmus has been one of the hotter prospects over recent years, but St. Louis is working him in slowly. He isn't playing every day, but is doing ok. In 20 games, Rasmus is hitting .270 with five RBI, and 15 runs scored. Not much fantasy value outside of keeper leagues right now, but keep an eye on him.
Injury News
Brian McCann is now targeting next weekend for his return to the lineup. He is attempting to play with glasses, and if that is successful, he will be back with the Braves on May 8th when he is eligible to come off the DL.
Brandon Morrow has landed on the 15 day DL with biceps tendinitis that has been bothering him for a little while now. Apparently Morrow didn't even want to go on the disabled list, so it doesn't sound like this is the most serious of injuries. Even better news, the move was made retroactive to April 24th when he pitched last, so he is eligible to come back on May 9th.
Jason Bay fouled a pitch off his ankle and had to leave the game. Looking for some updated information, but nothing has surfaced yet. Don't be surprised if Bay doesn't play on Sunday.
Ryan Braun didn't play on Saturday due to a stiff low back that cropped up on Friday night. This is another injury that I haven't found any follow up information on, but it doesn't appear to be overly serious.
Cole Hamels threw a bullpen session today, and while the results were "encouraging" it is still possible that he will miss his next start on Tuesday against the Cardinals. Being a Hamels owner myself, I will definitely let you know as soon as I know more.
Jose Valverde will indeed miss three to five weeks after draining blood from his injured calf. While it originally didn't seem that big of a deal, the swelling in Valverde's leg just wouldn't go down. LaTroy Hawkins will close games in his absence, or at least he will get the first try. I would not touch this situation unless you had to.
Finally, I would like to take this time to post a link to one of the newest baseball blogs, The Fantasy Windup. Steve Gardner, who has been with USA Today for over 15 years, has recently started his own blog about everything baseball that is updated multiple times a day. I especially liked the post from early in the week in which he was good enough to mention my site and link to my article from 4/26. Thanks Steve! I invite all of you to check out the Fantasy Windup and to get involved in the comments and forums with some of his great readers.
As always, your comments and questions are welcome at fightingchancefantasy@gmail.com. I guarantee a response within 18 hours. Also, don't miss "The Fantasy Baseball Gurus Show" every Wednesday night at 10pm EST on Blog Talk Radio. The show is co-hosted by Todd Farino of fantasybaseballsearch.com, RC Rizza of junkyardjake.com and myself, Ryan Hallam at fightingchancefantasy.com. To hear the show go to www.blogtalkradio.com/the_true_guru.
The Fantasy Baseball Scouting Report is also back! Join me with Jeff Mans every Tuesday night at 10pm EST for all the news, free agent pickups, minor leaguers, and injuries. A can't miss if you plan on winning your league. I also just met the people over at Baseball Trade Rumors and I invite you to visit their site. They have a page for rumors for every major league team, constant updates on the latest rumors, interactive polls, and overall some great content.