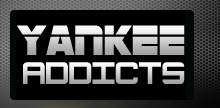 May 18, 2009 · Ryan Hallam · Jump to comments
Article Source: Bleacher Report - New York Yankees
Mark Teixeira is starting to heat up again. Teixeira had his second two homer game of the season and has finally hit double digits in power. He has also raised his average 40 points over the last ten days.
Every season, Teixeira owners go crazy for the first six weeks to two months, and every season, by the end of the year, his numbers are always there.
It looks like it is about time that Tex start to hit again.
It won't go into the books, but Ricky Nolasco finally looked like the pitcher he was last year. The Marlins' game was rained out tonight, but Nolasco had gotten through 3.1 shutout innings, walked three, and struck out five.
He is driving his owners completely crazy, and I have heard people wanting to let him go. Continue to keep Nolasco on your team, I still believe he will turn it around.
Rookies
Scott Richmond bounced back from two straight horrible starts and shut out the White Sox over seven innings. Not bad after being unable to get out of the second inning against the Yankees. Richmond walked just one batter and struck out seven.
I was just about ready to forget about him for the year, but now he comes back into some fantasy relevance after this performance. Hold on to Richmond and see what he does next time out.
Ross Detwiler got his first major league start tonight, filling in for the injured Scott Olsen. Detwiler isn't the highest level of prospect, but he is someone that the Nationals are hoping for a contribution from in the future. He has struggled in the minors, but was really good in college. He is a good strikeout pitcher though, and that gives him some value.
In his first start, he lasted five innings, allowed two runs, struck out six, but didn't walk anyone. I wouldn't go pick him up unless you are in an NL-only league, but keep an eye on his progress.
Mat Gamel finally got to start a game for the Brewers and he made the most of it, going 1-3 with a three run home run. The question with Gamel was never his bat, but his defense, and he made an error in his first game at third.
It is still unclear how many at bats he will get, but I still see him playing in the upcoming interleague series.
Colby Rasmus hit his third home run of the season on Monday, as he has started to show small signs of improvement. He had also homered a few days ago in a game that got rained out, so that would be three in the last five games had that one counted.
With the injury to Rick Ankiel, Rasmus has been playing everyday and making a decent showing for himself, but I don't think his major fantasy impact will come this year. The future is very bright for this kid, and it is a matter of when more than it is a matter of if.
Kris Medlen has had his scheduled start for Tuesday pushed back until Thursday. He continues to be unavailable in Yahoo free agency as of Monday.
Injury News
Brewers 2B Rickie Weeks is out for the season with a tear in his wrist. The oft-injured second baseman is bitten by the injury bug again. Any of you who own Weeks and need help looking for a replacement, send me an email and give me a few ideas who might be available.
It is rumored on CBS Sports that the Brewers might consider calling up top prospect SS Alcides Escobar and move him to second.
Carlos Delgado has been placed on the 15-day DL with a torn labrum in his hip. He will be having surgery, and there is no timetable for his return. Chase Utley, Alex Rodriguez, Mike Lowell, and now Carlos Delgado.
There is a rash of torn labrums in hips going around the majors. Alex Rodriguez missed two months with his surgery, so expect Delgado to be out at least that long.
Ryan Ludwick should be returning from the disabled list when he is eligible on May 28. He is progressing nicely from his rehab and looks to be on track for his return.
Vladimir Guerrero looks like he could be back on Memorial Day, after he is set to go on a short rehab assignment over the next couple of days. He hasn't been cleared to throw yet, so he will just be a DH upon his return.
I'm sure his fantasy owners would prefer him to only bat anyway.