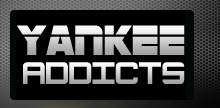 May 20, 2009 · Ryan Hallam · Jump to comments
Article Source: Bleacher Report - New York Yankees
Dontrelle Willis was rolling again tonight for the first time in a long time.
The D-Train went 6.1 innings, allowed just one hit, walked just two, and struck out five. Now, while I think this is a great story that he worked really hard to get back to the majors, I am just not excited about this from a fantasy perspective.
I need to see a whole lot more from Dontrelle before I think about picking him up. He also seemed to grimace after throwing one of his last pitches, so hopefully that wasn't a tweak of something.
James Shields had much more of a game that we have come to expect from him. Shields pitched into the ninth but couldn't finish the game, walked just two, and struck out five.
Shields has been frustrating his fantasy owners with his inconsistent performances this season, but overall, his ERA is still at 3.43.
I would like to see his strikeouts get up a little bit more, but he is still a guy that I have a good deal of confidence in.
Cole Hamels looks like he will be OK now. After battling some elbow issues, and then a couple of freak injuries, Hamels has finally settled in and had a few uneventful starts.
He wasn't dominant, but Hamels allowed three runs over six innings, walked two and struck out seven. He won for the second time this season, and he is looking more like the guy we saw last year now rather than the guy we saw in April.
I now feel safe with Cole.
Jason Bartlett is a good option for those of you looking for middle infield help, but I don't know how long he can stay this hot. Obviously, he can't keep his batting average at .380, but he already has 12 steals and 22 RBI.
He is getting daily playing time for the Rays, and if he continues to play like this he could steal 30 bases.
Andy LaRoche continues to be decent, but not great, and a guy that you would definitely have in an NL-only league, or a 16+ team league.
He hit his second home run of the year tonight, and he has been consistently at least giving you a 1-4 each night. I am starting to watch his progress, but don't think about making a move on him yet.
Shairon Martis, who I dubbed the worst 5-0 pitcher ever, somehow remained 5-0 after another shaky performance.
Martis pitched six innings, allowed five runs, walked two and struck out two. His ERA is at 4.53, and I just don't see a reason for fantasy owners to have him on their roster.
Yes he has five wins, but he's on the Nationals, so you know that's not going to last. His ERA and walks are high and his strikeouts are low. Stay away from him at this point.
Jair Jurrjens continues to pitch well, and is becoming one of the steals of the draft. Jurrjens lasted seven innings, gave up just one run, walked three, and struck out eight.
His ERA for the season is still at a sparkling 1.96, but he has got to get his strikeouts up higher if he wants to take that next step.
Continue to start Jurrjens each time he starts, but I don't think it would be a horrible idea to throw his name out there on the trade block to see if you get someone who likes him more than you do.
Tim Wakefield bounced back from a couple of tough outings to get back on the right track. He went eight innings, allowed just one run, walked two, and struck out three.
I still view Wakefield as more of a guy you pick up and drop when the matchups are right, and not a guy that you keep on your roster full time.
He will be decent most times and dominanta from time to time, but some nights that breaking ball just isn't going to work.
The Yankees over the Weekend
The Yankees continue to play really hot baseball against the Twins. C.C. Sabathia won his third straight start, striking out seven over seven innings, Alex Rodriguez homered for the fourth game in a row, and Mark Teixeira for the fourth time in four games.
They have always owned Minnesota, so that explains some of the stats they put up over the weekend, but the Bombers are a good offensive team, and I think that you should know what to expect from these stars.
Injury news
Elijah Dukes, who originally was day-to-day with that hamstring problem, has now been placed on the 15-day DL. The move was made retroactive to May 18th, which makes him out until the beginning of June. Austin Kearns most likely stands to gain the most playing time.
Joey Votto continues to suffer from dizziness and the team has still not figured out what the problem is. He underwent more tests today and will over the next couple days to diagnose the problem.Bench him for the near future.
New Feature
For those of you who are regular readers, I would like to offer a new service. I am starting a mailing list. Sometimes I see news during the day, but I wait until this nightly article to pass it along to you guys. Prospects coming up, injury news, closer movement, etc.
Just send me an email to fightingchancefantasy@gmail.com with "Mailing List" in the subject line and I will add you to the list. Then, whenever I find news that I feel is breaking and important, I will send it to you as soon as I find out about it.
Hopefully this is something that you all will find valuable to make a possible move before your competition.
Also, you can now follow me on Twitter for more updates. Go to www.twitter.com/fightingchance.
Attention League Commissioners! If you are looking to spice up your league some, go and visit Fantasy Sports Trophies. Tom Harkins has put together a great site with all kinds of different trophies to give the winner of your league something besides just bragging rights.
There are trophies for fantasy baseball, football (check out the Beer League Fantasy Football Trophy), basketball, hockey, and auto racing. I invite you to take a look at the site and try them out.
I'm also going to start mentioning the Fantasy Windup with Steve Gardner over at the USA Today again. His blog is updated many times each day, and is always covering the stories you are talking about when it comes to fantasy baseball.
Today he had a great post about the five most frustrating players to own in fantasy baseball. Go vent your frustrations on the message board.
As always, your comments and questions are welcome at fightingchancefantasy@gmail.com. I guarantee a response within 18 hours. Also, don't miss the "Fantasy Baseball Tonight" podcast four nights a week from Monday-Thursday.
The Big Show on Wednesday is co-hosted by Todd Farino of fantasybaseballsearch.com, RC Rizza of junkyardjake.com and myself, Ryan Hallam at fightingchancefantasy.com.
To hear the show go to www.blogtalkradio.com/the_true_guru. You can also hear me weekly on the Tuesday Night show. Join me with Jeff Mans every Tuesday night at 10pm EST for all the news, free agent pickups, minor leaguers, and injuries. A can't miss if you plan on winning your league.