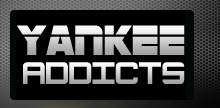 June 19, 2009 · Ryan Hallam · Jump to comments
Article Source: Bleacher Report - New York Yankees
Derrek Lee hit two homers on the day today, bringing his season total to ten. Anyone who has read this blog at all knows that I am very anti-D-Lee. He had that one great year, and has basically been a good average guy with little power that ends up on the DL a lot. Matches his initials, isn't that cute?
He is having a pretty good season, but he hasn't really been injured yet, and I still would not touch him. If you have him, I would try to cash in on this time and see if you can trade him for someone a little more safe.
Is there something wrong with Rich Harden? The guy just doesn't look like himself. He hasn't really been that dominant guy we saw last year much at all. Without a spirited comeback by the Cubs today, Harden would have been hung with the loss.
He had his worst start of the year as he allowed seven earned runs over five innings, walked three, and struck out two.
Harden also allowed two more home runs, which is not like him. I guess that you have to keep starting him if you own him, but I would certainly see if anyone remembers the lights out season he had last year. I'm not sure that something is wrong, but this just isn't Harden.
I keep saying that the future is bright for the Orioles, and their young players keep making it look like it is so. Nolan Reimold had two more hits, including his eighth homer in just 32 games.
Rookie sensation Matt Wieters also had two more RBI, giving him four in 16 games. Wieters got off to a slower start, but he has had some pretty good at bats. I don't know if he will quite live up to the hype this season (is that possible?), but you can tell he's a hitter, and the numbers will be coming eventually.
Kyle Blanks was called up by the San Diego Padres on Friday, as the top prospects continue to get the call. Blanks was rated the No. 1 prospect in the Padres organization by Baseball America, and was ranked No. 50 in all of baseball.
At worst, Blanks should be up to be the DH while the Pads are in American League ballparks, but they moved him into the outfield in the minors recently so they could keep his bat in the lineup.
I expect him to at least get a decent look even after interleague is over. If he hits at all, I would think that San Diego will keep him in the majors. Let's be honest, what do they have to lose?
Antonio Bastardo did allow four runs over seven innings to get tagged with his second loss, but he did strikeout five and he didn't walk a batter. OK, so it wasn't a Koufaxian kind of outing, but it was a nice bounce back from his last start where he only pitched one inning.
I wouldn't say he is a guy that I would start no matter what, but I would consider going with Bastardo against some of the weaker hitting teams in the National League.
Jordan Zimmerman has been looking like he is making improvements in his rookie year, and although he won't win a ton of games, is definitely a viable guy to have on your team. He has allowed two runs or less in four of his last five starts, and has struck out at least six of his last seven starts (only three tonight).
He doesn't go deep into games and the Nationals are awful, but he is certainly worth having. I had soured on him early in the year, but I am becoming on of the converted. He obviously has more value in keeper leagues, but even in seasonal leagues, he should be at the bottom of your rotation.
Diasuke Matsuzaka had another disasterous outing on Friday, and his record fell to 1-5. With John Smoltz returning next week, there is news that the Sox might go to a six man rotation, or possibly trade Brad Penny.
But the way Matsuzaka is pitching, is he in for another "rest" on the DL or maybe a trip to the bullpen? Considering the money they have invested, I doubt it, but they can't keep throwing him out there if he's going to pitch to a 8.23 ERA.
A couple of struggling Cardinal power hitters finally produced some fireworks as Ryan Ludwick and Rick Ankiel both homered, and Ludwick's was a grand slam. I'm not ready to say that they have "broken out of their slumps", but I do have more confidence in Ludwick going forward than I do in Ankiel.
Ludwick was off to a great start before his injury, while Ankiel has been struggling all season long. They are both legitimate power hitters and are both worth roster spots in traditional leagues.
Alex Rodriguez will be resting in tonight's game and tomorrow as well. A-Rod missed the first 28 games after hip surgery, and has played every game since. Not sure why the Yankees did that and didn't give him a day off here and a day off there.
Now they will sit him for two straight games. I wouldn't be completely shocked if he didn't play on Sunday, as the Bombers are off on Monday and that would give him a four day rest. Keep an eye out for his status on Sunday.
Manny Ramirez will begin his minor league "rehab" assignment on Tuesday, as he is now only 13 days away from the end of his suspension. He will play a handful of games at a couple of different levels as he prepares to get back in the lineup for the Dodgers on July 3rd.
I believe that Manny will begin to hit right away as soon as he is back in LA, and that Juan Pierre will be sent back to the bench unless they are able to trade him.
Brandon Webb was sent home after having pain in his shoulder after a throwing session the other day, and the news has taken a sudden turn for the worse. Webb will be evaluated next week by team doctors to see if they can find the source of the discomfort.
Us Webb owners were hoping to have him back around the All-Star Break, but right now that seems completely up in the air. Continuing stashing him and hope for better news, but this doesn't sound good all of a sudden.
Arizona's Chris Young could be DHing as early as Saturday, or could get the whole weekend off. I know, that is a sucky update, but that is the news that is out there. He might get the whole weekend off, which would give him four days with the off day on Monday, but apparently Young is feeling better after leaving the game on Friday with a strained groin.
If he plays tomorrow, I would say it is safe to play him Sunday, but I wouldn't have him in my lineup tomorrow.
Mailing List
I'm not going to stop bringing up the mailing list until I get a day where I don't get a request to join it. For those of you who haven't seen it yet, when I find news earlier in the day I will send an email to you about whatever it might be.
If you were on the mailing list you would have found out about the callups of Matt Wieters, Fernando Martinez, Nolan Reimold and others. The trade of Nate McLouth, and injuries to Jose Reyes, etc.
This mailing list is your way to get a step up on your competition. Anyone who is on the list, please leave a comment below on whether you think that you have benefitted from the list. Send an email to either fantasybaseballtonight@gmail.com or fightingchancefantasy@gmail.com and put Mailing List in the subject line.
As always, your comments and questions are welcome at fightingchancefantasy@gmail.com. I guarantee a response within 18 hours. Also, don't miss the "Fantasy Baseball Tonight" podcast four nights a week from Monday-Thursday. The Big Show on Wednesday is co-hosted by Todd Farino of fantasybaseballsearch.com, RC Rizza of junkyardjake.com and myself, Ryan Hallam at fightingchancefantasy.com. To hear the show go to www.blogtalkradio.com/the_true_guru. You can also hear me weekly on the Tuesday Night show. Join me with Jeff Mans every Tuesday night at 10pm EST for all the the info and craziness we can pack into one hour. A can't miss if you plan on winning your league.