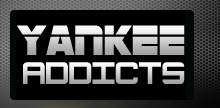 May 28, 2009 · Ryan Hallam · Jump to comments
Article Source: Bleacher Report - New York Yankees
Rick Porcello now won his fifth straight start, and has now become a serious, consistent major league pitcher at age 20. He is now 6-3, and he has allowed two runs or less in five straight starts.
The only thing that you can say about Porcello is that you would like to see him strike more hitters out. But that's not who he is.
He now has 32 Ks in 51 innings, but unlike most young pitchers he doesn't allow many walks. In nine starts he has walked only 16 batters. In keeper leagues his value is immeasurable.
Nolan Reimold continues his great start for the Baltimore Orioles. He didn't start the game, but came in and made the most of his time. Reimold hit a walk off three run homer to win the game. He now has four dingers on the year, and is hitting .265.
His average should go up some as he gets more comfortable, and like I've been saying, I think he will have a good season.
The Cubs have called up Jake Fox to the major leagues. He will be 27 in July, so he isn't a young prospect, but boy is he raking.
In 40 games at AAA, Fox is mashing the ball to the tune of a .423 average, 17 HRs, and 50 RBI. He is not a base stealer though. I'm not exactly sure where they intend to play him, but he has seen time at first base, third base, catcher, and both corner OF spots in the minors, so he could play any number of places.
Will he hold the fort down at 3B until Aramis comes back? Tough to say, but I am guessing that he will get ABs. Last year between AA and AAA he hit 31 homers and drove in 105 runs, so this power is legit.
The .423 average has to come down, but he could have an impact.
After I finally dropped him Daniel Murphy, goes out and has a great game. Unless the Mets go out and make a trade, Murphy will be playing first base going forward. His average had dipped down to .246 before his 3-5 effort today.
Murphy drove in five runs, and connected on his fourth homer of the year. In the last ten games he only had three hits and had driven in one run. They like Murphy on sports talk radio here in New York, but I wonder if he is in over his head. I need to see a ton more from him before I would even think of having him on my rosters.
Jay Bruce might not be hitting for a very good average, but when he hits, he makes the most of it. Bruce had one hit in his last six games, but he had two homers and a triple.
He's now up to 14 home runs on the year, and is a real candidate to hit 30 this season. I also think he will get his average up to the .265 range, so hot streak has to be in his future. He will be a great major league player in the near future.
Texas rookie Derek Holland didn't fare too well in his start against the Yankees on Wednesday, but few young pitchers do. Holland allowed five earned runs over five innings, walked just two, but struck out five.
He's only 22, so he will struggle from time to time, but he throws hard and is left handed, so he will get a long leash to succeed. The Rangers also have a strong offense, so he could get some wins he doesn't deserve.
The Orioles have called up David Hernandez to replace Koji Uehara. Hernandez has been good for the past couple seasons, but is not an elite prospect, or at least not one of the Orioles better prospects.
Last year at AA he was 10-4 with a 2.68 ERA in 27 starts. He is a great strikeout pitcher, as he whiffed 166 in 141 innings. Control can be a problem as he also walked 71.
This season he was in AAA and was 3-1 with a 2.91 ERA and 60 Ks in 41 innings. Not sure how long term this promotion is, but if he pitches well he could hang around. The O's certainly could use some help at starter.

More Starting Pitching
Erik Bedard improved to 3-2 with another strong outing. He pitched 6.2 innings, allowed just one run, and struck out five. Bedard has had some injury problems over the years, so I am always concerned about that with him.
His ERA is just 2.48, and he has yet to give up more than three earned runs in any start this season. I'm still more of a sell high guy on Bedard, but he has been doing quite well.
A.J. Burnett won for the first time since April 14th by shutting out the Rangers over six innings, and striking out seven. He is still walking too many guys, as he offered four free passes, but hopefully this is the start of a hot streak for him.
Burnett has had a history of being good only in contract years, which means he could only be a .500 pitcher this season, but on the Yankees he should get some extra wins. Even if he doesn't get a ton of wins, Burnett will help you in strikeouts.
Kevin Slowey is now 7-1, and hasn't given up more than two runs in four straight starts. He allowed just two runs over six innings tonight against the Red Sox,and struck out five.
He also walked a batter, which gives him a grand total of five walks in his ten starts. Slowey's ERA might still be over 4.00, but that is largely due to the fact that he allowed five runs in three of his first five starts. Continue to start him with confidence.
I keep waiting for Jered Weaver to fail, and he keeps proving me wrong. He was great again, giving up just one run over eight innings and striking out eight. Weaver is bringing back memories of his rookie season, and I am feeling better and better about him as the season goes on.
I assume his owner feels the same way if you were thinking about trading for him, so you might have to give up too much. It might be worth throwing an offer over to see if perhaps the person who has him is still as skeptical as I was.
Gavin Floyd might have taken the loss, but it was his second consecutive quality start. Floyd went the whole eight innings, gave up three earned runs and struck out eight.
After a horrible start to the year, this was back to back eight inning performances. I still think he is better than he showed at the start of '09, but not as good as he was in '08.
If he was dropped, I would make a move to pick him up, just don't expect quite what he gave you last year and you won't be disappointed.
Rich Hill was BAAAAAAD in his third start of the year. After allowing just two runs in each of his first two outings, Hill finally struggled and couldn't get through the fourth inning. He gave up six earned runs and walked three in 3.1 innings, raising his ERA to 6.14.
Of course he is going to struggle from time to time, you couldn't have expected him to be lights out considering where he has been the past couple of seasons.
Consider him a decent end of your rotation kind of guy, and he might be able to give you a few decent starts against weaker AL teams.
Mailing List
For those of you who are regular readers, or even new to the site, I would like to offer a new service. I am starting a mailing list.
Sometimes I see news during the day, but I wait until this nightly article to pass it along to you guys. Prospects coming up, injury news, closer movement, etc. Just send me an email to fightingchancefantasy@gmail.com with "Mailing List" in the subject line and I will add you to the list.
Then, whenever I find news that I feel is breaking and important, I will send it to you as soon as I find out about it. Hopefully this is something that you all will find valuable to make a possible move before your competition.
Also, you can now follow me on Twitter for more updates. Go to www.twitter.com/fightingchance.
Attention League Commissioners! If you are looking to spice up your league some, go and visit Fantasy Sports Trophies. Tom Harkins has put together a great site with all kinds of different trophies to give the winner of your league something besides just bragging rights.
There are trophies for fantasy baseball, football (check out the Beer League Fantasy Football Trophy), basketball, hockey, and auto racing. I invite you to take a look at the site and try them out.
As always, your comments and questions are welcome at fightingchancefantasy@gmail.com. I guarantee a response within 18 hours. Also, don't miss the "Fantasy Baseball Tonight" podcast four nights a week from Monday-Thursday.
The Big Show on Wednesday is co-hosted by Todd Farino of fantasybaseballsearch.com, RC Rizza of junkyardjake.com and myself, Ryan Hallam at fightingchancefantasy.com. To hear the show go to www.blogtalkradio.com/the_true_guru.
You can also hear me weekly on the Tuesday Night show.
Join me with Jeff Mans every Tuesday night at 10pm EST for all the news, free agent pickups, minor leaguers, and injuries. A can't miss if you plan on winning your league.