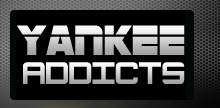 News published by
May 8, 2009
At the very start of the year we all thought this could be one of the best bullpens in baseball. With the likes of DeMaso Marte, Jose Veras, Brian Bruney, ...
May 1, 2009
More empty seats down low, but the Yankees found some late game energy nonetheless. A.J. Burnett got off to a rocky start but put together a solid seven inning, four—run ...
April 30, 2009
After Joba Chamberlain's magnificent performance against the Tigers a thought that I had been having the last few days entered my mind once more. What will happen to the once ...
April 29, 2009
Coming off of a four-game losing streak, including a sweep by the dreaded Red Sox, the Yankees needed a spark. With Wang off the team (for the time being), they ...
April 26, 2009
Among the obscurities of baseball—the knuckle ball pitcher, the unassisted triple play, the suicide squeeze, and perfect games—lies one that is just baffling: stealing home. Just how does a team ...
April 26, 2009
When is Joe going to learn how to manage the bullpen? I'm starting to think Don Mattingly should absolutely be the Yankee manager at this point. Too bad he's with ...
April 23, 2009
The greatest rivalry in sports is set to kickoff this week as the Yankees battle the Red Sox at Fenway Park in Boston. Both teams come in with a 9-6 ...
April 22, 2009
It looks like Hideki Matsui is starting to find his swing. He went 2-for-3 against the A's with a walk on Tuesday. What's Godzilla going to bring to the table ...
April 20, 2009
Now that the first two weeks of baseball are finished, I thought I'd write my assessment on our beloved Yankees so far in this season, which is when I watch ...