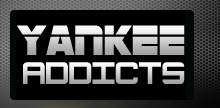 April 29, 2009 · T.J. Morrill · Jump to comments
Article Source: Bleacher Report - New York Yankees
Coming off of a four-game losing streak, including a sweep by the dreaded Red Sox, the Yankees needed a spark. With Wang off the team (for the time being), they needed someone to step in and pitch like a man.
Enter Phil Hughes.
A dominating performance by Hughes took him six innings with no runs. Had it not been for the long 10-run inning his team gave him, he very well could've gone seven.
I had said from the start of the year that Phil Hughes deserves a starting spot—this could be his year to be the top-notch young pitcher he is expected to be.
When I watch Phil Hughes pitch, he just amazes me. He has disgusting stuff, like his absolutely filthy curveball and his newly added cutter that we saw last night. He made a major league veteran in Placido Polanco bail out of the box on a strike. You don't see that too often.
Not only is his arsenal just dirty, but he knows how to hit his spots and listen to his veteran catcher for pitch selection. As all of us should know, dirty stuff only matters if you know how to use it, and boy, does Phil Hughes know how to use his stuff.
If he continues to pitch like this, I see no reason to take him out of the rotation. Will every game be a shutout? No. The fact is, though, he has earned his spot over the last couple of years and if Wang doesn't get back on track and Joba turns it on, the Wanger could find himself out of a job or a just a long relief man.
Phil Hughes deserves that starting spot and really makes me anxious for the future of the Yankees.