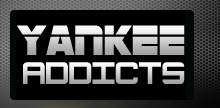 April 20, 2009 · T.J. Morrill · Jump to comments
Article Source: Bleacher Report - New York Yankees
Now that the first two weeks of baseball are finished, I thought I'd write my assessment on our beloved Yankees so far in this season, which is when I watch the most baseball because of my own baseball.
Let's begin with the starting pitching:
CC Sabathia: Got off to a rocky start but his second start was fantastic and his third one maybe a little short but he definitely deserved the win.
Chien-Ming Wang: What happened? We can't keep letting this guy out there I know he's been great in seasons past but a 35 ERA is just inexcusable.
A.J. Burnett: Perhaps the most consistent starter out of them all. He's had three solid outings and currently boasts a record of 2-0 with an ERA floating around three.
Andy Pettitte: Looks like he's ready for a bounce back season as his previous two starts have been great, him and Burnett both have shown great consistency.
Joba Chamberlain: The only problem I see here is that he isn't going deep enough into games but that's more to blame on his short pitch count leash trying to keep him healthy.
Next let's go to the bullpen:
Mariano Rivera: Great closer, looking to have another fantastic year, already looking strong.
Brian Bruney: I think we found our setup guy, he's been one of the few bright spots in this Yankees bullpen.
Jonathan Albaladejo: The only other bullpen guy showing any kind of consistency along with Bruney and Rivera.
Jose Veras: He was an early candidate for the setup job but his control issues have proven brutal, I don't care how nasty his stuff is he has to throw strikes, walks kill.
Phil Coke: Been the best lefty in the pen so far but is still a hit or miss guy to throw in there, he's had really good outings and really bad ones so far.
DeMaso Marte: Last year's lefty specialist is off to a horrid start, let's hope something is done about that.
Nick Swisher: You knew I was going to mention it, here's our emergency pitcher for the future.
Claggett and Robertson: Neither of them got much time but Claggett stepped into a bad situation and Robertson only got sent down because of X-Man's injury and Girardi wanted another position player as Robertson really pitched well in his two innings of work.
Let's analyze the position players now:
1. Derek Jeter: Not a spectacular start but he has three home runs and he's doing his share of the work, with a clutch bomb against the Indians.
2. Johnny Damon: First hit at Yankee Stadium, and he's not doing too bad beside that either, he's off to a great start and is finding plenty of ways on base.
3. Mark Teixeira: Great defensive job, he was a little slow out of the gate but he is definitely flexing his muscles in the Bronx, three home runs so far.
4. Nick Swisher: Perhaps the biggest surprise of all Swish has four home runs and is hitting above .350 last I checked. Bringing a great personality to the field everyday, he's already a fan favorite.
5. Jorge Posada: He started off a little weak defensively but I think he's coming around and his go ahead home run was big against Cleveland. He's definitely got a hot bat right now.
6. Robinson Cano: Off to a hot start, another three home run guy. He has been on base almost every time he's been up. Mattingly may have been right about Robby being a future batting champ.
7. Hideki Matsui: The knees are bothering him more than we thought. With a sub .200 batting average I think there is need for concern here.
8. Cody Ransom: He's been hitting the ball hard but hadn't dropped one in until Sunday against the Tribe as he broke his bat and hit a bases clearing double.
9. Brett Gardner: One base stealin' fool is what I have to say about him. He has his share of hits but his main game is bunting and running, off to a pretty good start.
Bench
Melky Cabrera: Shown he can hit when he's played. A fourth outfielder like Melky really is a great asset to a team.
Ramiro Pena: He's really flashed the leather but his bat leaves a lot to be desired.
Juan Miranda: I know he's up and down, I haven't seen him a lot but I look forward to see what the future holds for him.
Jose Molina: One of the best defensive catchers in the game, the only thing keeping him from starting every game is Posada's bat and legacy in the Bronx. The perfect backup catcher, he throws out runners, calls great games and still hits .230 every year.
Now for the final grades:
Starting Rotation: Would be a B but Wang's performance has dragged it down to a C+
Bullpen: D
Lineup: B
Bench B+
It looks like the bullpen needs to bump it's grade up and hopefully something is done about Wang and the rotation will be above average again then the lineup and the bench for the most part doing their job, except the lineup is leaving men on base.
The coaching gets a C for poor bullpen management and messing up Wang but they have done a great job with the position players so they pass.