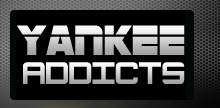 April 23, 2009 · T.J. Morrill · Jump to comments
Article Source: Bleacher Report - New York Yankees
The greatest rivalry in sports is set to kickoff this week as the Yankees battle the Red Sox at Fenway Park in Boston. Both teams come in with a 9-6 record, tied for second place in the American League East.
Who will win the first matchup of the season? Let's take a quick sneak peek at the action. Let's begin with the starting pitchers.
Joba Chamberlain vs. Jon Lester
Both teams come in with struggling starters. Joba Chamberlain holds a 5.06 ERA while Jon Lester is at a surprising 5.50 ERA.
They are two young guys with a lot of talent. I expect both of them to suck some air out of those inflated ERAs. Two good, but not great outings; this one could go either way.
Let's talk batting lineups
The Yankees and Red Sox both boast a lot of power with the likes of Mark Teixeira, Nick Swisher, David Ortiz, and Kevin Youkilis. Be ready for some sticks to come out in this series. As I expect some solid hitting from both teams.
Bullpens (where games are won)
Unfortunately, it looks like the Red Sox will have the edge after that 14 inning game the Yankees finished against the Oakland A's. It looks like Jose Veras, Phil Coke, and Edwar Ramirez are not available, but look for Brian Bruney and Mariano Rivera late in a close game, matching up with the duo from Boston: Okajima and Papelbon.
In what should be a hard fought game I am looking to see a Yankees win in a tight one, 4-3.