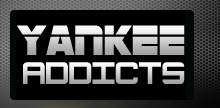 April 22, 2009 · T.J. Morrill · Jump to comments
Article Source: Bleacher Report - New York Yankees
It looks like Hideki Matsui is starting to find his swing. He went 2-for-3 against the A's with a walk on Tuesday. What's Godzilla going to bring to the table in the future, though? Will he forever be a Yankees DH or will he find himself playing left field or DH for another team?
First off, I am one of the biggest Matsui fans out there. I love watching him play, and he's got the greatest nickname in the world. "Godzilla," however, is losing power, is aging, and just might not be what he used to be.
Hideki's knee injury has certainly slowed him down as well. I thought he was going to be traded this last year, and I was relieved that I'd still be able to see one of my favorite players stay on my favorite team.
I've thought for a long time, though, that when he got older that maybe he would become trade bait and make way for some new prospects or relief pitchers to come in from another system.
Now that I look at the Yankees as a whole, it's apparent that he belongs in the Bronx, even when Xavier Nady and Alex Rodriguez are back. He's still a serviceable DH and has been one of the most clutch hitters I have seen through the Yankees' World Series drought.
Not only could Matsui be a serviceable DH for a few more years, coming on and off the bench, but he could be one sweet pinch hitter. Even if, say, there's a lefty-lefty matchup going on, Matsui has still historically hit lefties better than righties and could work very well from that role.
Why trade Matsui? The only scenario I could see is trying to get some prospects or relief pitchers. Unless Al Qaeda attacks Scranton and Trenton, I don't see a problem here. The Yankees have young talent in the forms of Juan Miranda, Austin Jackson, Ramiro Pena, and a few other position players you could name.
Pitching prospects such as Phil Hughes, Alfredo Aceves, Ian Kennedy, and switch-pitching Pat Venditte are all in the minors and could be serviceable pitchers in the future.
Relief pitchers? Well, we may need some help there if Jose Veras and Damaso Marte continue to get shelled. Otherwise, I see no reason to ditch Matsui after or during this year unless it's some ridiculous deal that brings the likes of Prince Fielder to the Yankees.
I know Matsui is only batting .235 so far, but consider this: Even with that average being very low for him, he's still maintaining a .409 OBP, which means he knows how to work a walk and find his way on.
Does Matsui have a future in the Bronx? Absolutely.