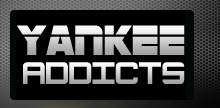 May 8, 2009 · T.J. Morrill · Jump to comments
Article Source: Bleacher Report - New York Yankees
At the very start of the year we all thought this could be one of the best bullpens in baseball. With the likes of DeMaso Marte, Jose Veras, Brian Bruney, and Mariano Rivera, this should've been a lights out relief corps.
Unfortunately, the few blunders Girardi made along with some iffy pitching coaching from Dave Eiland has seemed to just throw this whole bullpen out of whack.
For the first time in his career against the Rays on Thursday Mariano Rivera gave up back-to-back home runs. That is not like him.
The injuries I would place the blame on Eiland because he needs to be keeping these guys consistent with low-risk mechanics which he's not doing one bit for them.
Girardi though has made enough questionable decisions not only for us fans but for the bullpen to even question it's own reliability which has ruined the confidence in that bullpen which is evident when players are constantly walked over the pitchers fear of challenging a hitter.
My proposal is that the Yankees get rid of Girardi and see how far Tony Pena can take them, once the season is over there are two options.
1: Pena does a great job takes the team into the playoffs past the ALDS and is kept as the new Yankees manager.
2: Pena stinks or just comes short and we decide to either bring Willie Randolph to the Bronx or see if Mattingly will forgive the club for getting the management situation wrong.
I am just too fed up with this bullpen and I believe Joe Girardi's bullpen management is the ultimate cause of the collapse of this once illustrious bullpen.