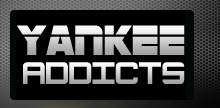 May 1, 2009 · T.J. Morrill · Jump to comments
Article Source: Bleacher Report - New York Yankees
More empty seats down low, but the Yankees found some late game energy nonetheless. A.J. Burnett got off to a rocky start but put together a solid seven inning, four—run performance.
Going into the eighth inning, the score was tied at four with the Yankees coming out swinging. After an intentional walk to Nick Swisher, Melky Cabrera proved his worth again and drove in the go—ahead run.
Ramiro Pena also achieved his first two major league RBIs with a double to give the Yankees a little insurance.
It appears the initial decision to start Brett Gardner in center was the wrong choice as Melky Cabrera continues to hit, showing that he is the center fielder for the time being.
Does Gardner have a better glove?
Probably. But at the major league level, whoever has the best glove isn't as important because all of them are pretty good fielders. Notice every player's fielding percentage is in between .970 and 1.000. That's pretty good, folks—not a lot of errors.
Melky is truly the center fielder this year. Hopefully we see this from Cabrera all year long and not the lazy arrogant young kid we saw last year.
Gardner should definitely get his playing time where it's due, but Melky has earned his spot now.