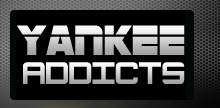 News published by
May 29, 2013
Just in time for the weekend series against the rival Red Sox, the New York Yankees will be getting a little extra help at the corners with the return of ...
May 9, 2013
Despite the Yankees starting the 2013 season with a large amount of the core players missing due to injuries, they find themselves with a healthy 19-13 record. In fact, they ...
April 16, 2013
As I suggested during the offseason, Brian Cashman's low-key moves are paying off.With the 2014 payroll target looming, the Yankees did not want to commit big money or multiple years ...
February 7, 2013
Despite what most fans are saying, the Yankees have been making some nice moves during this offseason. After letting the likes of Nick Swisher, Raul Ibanez, Andruw Jones and Russell Martin ...
March 23, 2012
Joba Chamberlain dislocated his ankle last night, playing on a trampoline with his young son. Sure, that may not sound too bad, until I tell you it was an open ...
March 7, 2012
Aside from finding a talented veteran in Hiroki Kuroda, they just found their No. 2 work horse. Aside from CC Sabathia, who finished in the top five in innings pitched ...
March 6, 2012
Aside from the Yankee-affiliated handles and Yankee players, there are a handful of Twitter accounts that every fan should be following. These guys are either established beat writers, fan sites or ...
March 6, 2012
In his first outing this Spring, Phil Hughes looked closer to his 2010 form. After dropping some weight, Hughes was hitting 92-93 on the gun, according to scouts. Now these numbers ...
January 24, 2012
Brian Cashman has again suggested he will use the Yankees surplus of pitching to target a DH in the trade market. Looking at it from all sides, this is what New ...
December 7, 2011
New York Yankees GM Brian Cashman continues to insist he isn't seeing much to be had in the free-agent market when it comes to starting pitching.According to Cashman, the ...