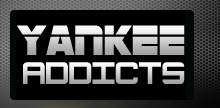 May 9, 2013 · chris brunau · Jump to comments
Article Source: Bleacher Report - New York Yankees
Despite the Yankees starting the 2013 season with a large amount of the core players missing due to injuries, they find themselves with a healthy 19-13 record. In fact, they are just one game behind the Red Sox and Orioles in the AL East.
Sure, they are sitting at 18th in the MLB for runs scored, but one surprising number has sprung up. It's a number that many writers said the Yankees were surely going to miss: the long ball.
Thanks to Robinson Cano and additions like Vernon Wells and Travis Hafner, the Bronx Bombers are playing true to their name with 41 shots (no Bruce Springsteen reference intended), finding themselves fifth in the league.
Aside from the power ball, the Yankees have also seen spots of success from former bench players like Jayson Nix and Chris Stewart. These guys are really stepping up at two positions that were hurt by injury.
Prior to the season, the general consensus was that the Yankees were in for a rough season.
Many thought that as long as the Yankees can hover around .500 until players like Curtis Granderson, Derek Jeter and Mark Teixeira came back, maybe they would have a shot at the playoffs.
With the latter two experiencing delays in their rehab process, this unexpected success from the Yankees is really coming at a great time. Not only are the Yankees playing about .500 ball, but they are looking like a playoff contender at this very early stage in the season.
The Yankees aren't just hanging around until their injured players returned and then making a move to catch up with the pack. They're hanging with the pack right now, and looking to catapult themselves in the standings and build up a lead when the team finally hits full strength.
Read more New York Yankees news on BleacherReport.com