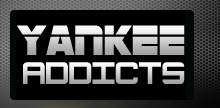 December 7, 2011 · chris brunau · Jump to comments
Article Source: Bleacher Report - New York Yankees
New York Yankees GM Brian Cashman continues to insist he isn't seeing much to be had in the free-agent market when it comes to starting pitching.
According to Cashman, the Yankees do not see anything in the market worth allocating so much money to, and nothing presenting itself in trades is worth giving up prospects Dellin Betances, Jesus Montero or Manny Banuelos.
Now, I believe Cashman, but I think he may be using his poker face here.
He is insisting the Yankees are underwhelmed by the crop of pitchers, which may bring the ball slightly more in their court. If any free agent pitchers have the Yankees on their radar, they will have to lower their asking price, and the same goes for other teams looking to match up in a trade with New York.
It would seem like the Yankees are also out on the inevitable bidding wars for Yoennis Cespedes and Yu Darvish.
However, they could be playing the dark horse again in this situation.
When it comes to Darvish, it is a blind bidding war. No team knows what the other teams bid, or which other teams bid, for that matter. The Yankees could easily sneak in, offer the price they deem fitting and post the fee for Darvish. No one would be the wiser, besides the Nippon Ham Fighters.
Now, I am not saying this is the case, but it is definitely a possibility.
Before you write this off as outlandish, and just a Yankee fan being hopeful, remember what happened in 2008. Mark Teixeira all but seemed to be heading to Boston, and the Yankees swooped in just in time to land the coveted free-agent slugger and Gold Glover.
The Yankees were burned by secrecy when it came to the Cliff Lee trade in 2010. It seemed almost guaranteed that the Yankees and Mariners were making a trade involving Cliff Lee for Jesus Montero, when it suddenly fell through, and Lee found himself heading to Texas.
Cashman was upset by this, feeling as he was swindled by the Mariners.
Now, I am not suggesting Cashman is looking to get even with anyone, but I am just saying that he may have seen the benefits of acting more discretely—it paid off for the Yankees when it came to Tex, and it paid off for the Mariners when it came to Lee.
Cashman may be genuine when he says not to expect anything, and if he is, that isn't necessarily a bad thing. The Yankees completed their main offseason goal by making sure CC Sabathia would return, and that put them in a much better position than they could have been in.
They have their guaranteed Cy Young candidate, they have young talent in Ivan Nova, Phil Hughes and potentially Hector Noesi. They have veterans in A.J. Burnett and Freddy Garcia. As is, the Yankees would be just fine with their rotation.
So, whatever route the Yankees take, have faith, fans. Everyone thought Cashman was crazy when he brought in Garcia and Bartolo Colon last season, but it worked out.
Cashman may not go about things the conventional way, but he does it right.
There's a reason he is one of the most successful GMs in the past two decades.
Read more New York Yankees news on BleacherReport.com