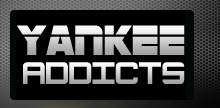 May 29, 2013 · chris brunau · Jump to comments
Article Source: Bleacher Report - New York Yankees
Just in time for the weekend series against the rival Red Sox, the New York Yankees will be getting a little extra help at the corners with the return of Mark Teixeira and Kevin Youkilis, according to Yankees general manager Brian Cashman. The Associated Press reported the news (h/t USA Today).
The Yankees currently trail the Red Sox by one game for the American League East Division, and this may be just what they need after their three-game slide (they were the only team in the MLB to not have lost three in a row, until last night's walk-off loss to David Wright and the Mets).
However, as great as it is to have these two sluggers back, things will be getting a little more complicate for Joe Girardi when he writes up his lineup card.
With the stellar play of David Adams at third and Lyle Overbay at first, who will be the odd man out? Adams will likely be the player who is sent down, seeing as the Yankees would be able to retain him despite demoting him.
Overbay brings up a interesting situation, because the only position he can play is first base, and we know that is Teixeira's spot the day he returns. It's likely that Girardi will ease Tex back in, probably giving him some time at designated hitter and first base, which would allow for Overbay to get time in at first. We've been seeing a lot of Travis Hafner in designated hitter, who can also play backup first base if needed. Unfortunately, neither of the two hit well against lefties Overbay (.157) and Hafner (.231).
Yes, it is a tough situation for Girardi, but as he or anyone in baseball would say, it's a good problem to have, although players on the bubble, like Adams and Overbay, would likely disagree.
Read more New York Yankees news on BleacherReport.com