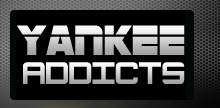 April 16, 2013 · chris brunau · Jump to comments
Article Source: Bleacher Report - New York Yankees
As I suggested during the offseason, Brian Cashman's low-key moves are paying off.
With the 2014 payroll target looming, the Yankees did not want to commit big money or multiple years to the free-agent crop of this past winter, so they made moves to fill their holes in less conventional ways.
Granted, you can't predict the injuries to players like Mark Teixeira and Curtis Granderson or Derek Jeter's setback, but Cashman has done a pretty good job so far—good enough to see the Yankees at 7-5 with decent production.
Hopefully, they can stay afloat until the cavalry comes home.
So far, the Yankees have seen great production from the lines of Kevin Youkilis, Travis Hafner, Vernon Wells and Brennan Boesch. Youkilis is arguably having the best early season out of any Yankee and is even finding himself amongst the best in the majors.
Wells has found a revival early on in the season, showing more signs of the All-Star player he was in Toronto and not the bust he was in Anaheim. This isn't necessarily a new thing for the Yankees over recent years, as we have seen players like Ichiro Suzuki, Freddy Garcia, Bartolo Colon and Eric Chavez revive their careers—albeit for a short time in some cases—when they put on the pinstripes.
The Yankees have been attempting to catch lightning in a bottle in these instances, and so far, it is working in their favor.
Of course, a big part of the Yankees' success has been some strong pitching from Andy Pettitte and CC Sabathia, but that is expected. Phil Hughes, Ivan Nova and Hiroki Kuroda have yet to find their stroke, but being this early in the season, we can expect them to get their feet under them in the next start or two.
Read more New York Yankees news on BleacherReport.com