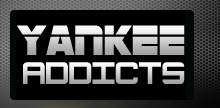 March 7, 2012 · chris brunau · Jump to comments
Article Source: Bleacher Report - New York Yankees
Aside from finding a talented veteran in Hiroki Kuroda, they just found their No. 2 work horse. Aside from CC Sabathia, who finished in the top five in innings pitched last year, the Yankees didn't have another starter racking up 200 innings. A.J. Burnett was the next closest at 190.
Enter Kuroda with 202 innings last year—and the impressive numbers do not end there. Kuroda posted a 3.07 ERA, 161 Ks, a 1.21 WHIP and a record of 13-16.
Now, taking him off the atrocious Dodgers and out of the N.L. West, we'll see his numbers change in two ways. His ERA may increase being in a better-hitting division, but he will also have a better defense working behind him. He'll likely give up more homeruns than last year (24), being in a hitter-friendly park and a league stacked with amazing hitters.
However, he will have a better offense behind him, along with a better defense, so we will likely see him winning at least 15 games.
At the end of the day, that's the number that matters. Sure, it won't win him the Cy Young, it won't give him an all-star nod, but it will bring him and the Yankees that much closer to No. 28. Say what you will about numbers, but wins are all that matter.
The Yankees will unleash Kuroda today against the Tampa Bay Rays and we will officially have a look at our starting rotation.
P.S.—I can't look at these Yankee pictures without thinking of them sitting in a bathroom, taking them. Of all the space you have at George Steinbrenner Field, you pick a bathroom? That was really the best lighting? Come on son.
Read more New York Yankees news on BleacherReport.com