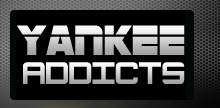 February 7, 2013 · chris brunau · Jump to comments
Article Source: Bleacher Report - New York Yankees
Despite what most fans are saying, the Yankees have been making some nice moves during this offseason.
After letting the likes of Nick Swisher, Raul Ibanez, Andruw Jones and Russell Martin walk, many fans and writers have been doubting whether the Yankees were interested in winning, or just meeting the payroll that owner Hal Steinbrenner has placed in to avoid a luxury tax in 2013.
The previously mentioned names account for a big chunk of homeruns, RBI and some big positions (mainly Swisher in right field and Martin behind the plate), but the Yankees have made some great moves to work toward filling these voids.
First off, the Yankees brought back some major pieces when it comes to pitching. They brought back the greatest closer of all time, Mariano Rivera, to return to his glory prior to the 2012 season and pick up right where he left off.
Another huge signing was Andy Pettitte. Surely, Pettitte is not as stellar as he once was, but he is still a great pitcher. He eats up innings, and provides a great veteran presence in the playoffs (being the winningest pitcher in postseason history.) In Pettitte's injury-shortened 2012, he posted some great numbers with a 2.87 ERA, a 5-4 record, 69 strikeouts and a 1.14 WHIP. Pretty solid for a No. 3-type starter behind CC Sabathia and Hiroki Kuroda.
The Yanks also made a good deal in bringing back Ichiro Suzuki, who they acquired over the summer. Although Ichiro is seeing the end of his career, he was one of the best hitters come playoff time. Also, he provides a running threat along with Brett Gardner, and he can still play the corner outfield as well as anyone else, at least as well as Swisher.
When it comes to newly-acquired pieces, the Yankees made one major move that has been looking smarter and smarter with the recent news about Alex Rodriguez potentially missing the entire season, or maybe even seen his last days in pinstripes. None other than Kevin Youkilis.
Now, I'm not going to pretend that I am a fan of Youk, after all, he was basically the face of the Red Sox for a couple of years, but you cannot doubt his talent and determination. Youkilis can hit for power, average and, most importantly, he sees tons of pitches, something that the Yankees have lost in Swisher. Aside from these great attributes at the plate, Youk is also a strong defender with a good arm at the hot corner, something the Yankees will surely need a solid, everyday piece at without A-Rod for a significant amount of time at the very least.
This week, they also made another under the radar and cheap move in signing a designated hitter in Travis Hafner. Hafner is another player that I don't really like, but mostly because he often hit really well against the Yankees, especially when it mattered. He isn't the player he used to be—only hitting .228, 12 homers and 34 RBI—but he will likely fill the void that Ibanez's departure created. Being a left-handed hitter with decent power, Yankee Stadium may be a great place for Hafner, and like Ibanez, there may be a little revival.
The biggest issue that still remains is catcher. The Yankees did sign Bobby Wilson—who isn't anywhere near the hitter or defender that Martin is—but he will be tossed into the mix for the starting catcher competition with Francisco Cervelli and prospect Austin Romine. Personally, I would love to see Romine make the squad, but right now, Cervelli is probably a great option. He's a decent defender, and he has a lot of heart and grit, something that is always great for the clubhouse, especially after losing a guy like Swish.
Now, none of these new players are going to wow fans, but this is something that general manager Brian Cashman has done a great job with in recent years. Whether it was Freddy Garcia, Bartolo Colon, Jones, trading for Ichiro, Ibanez, etc., Cashman has brought in players that most people assumed were all but done, and turned them into contributors.
Despite what people say, the Yankees still have the core players that are annual all-stars, so expect to see them in the playoffs yet again.
Read more New York Yankees news on BleacherReport.com