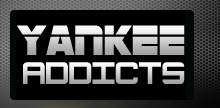 News published by
April 30, 2009
The Selena Roberts A-Rod book fallout has started as the Daily News got a hold of some excerpts. I don't know how they got them a couple of weeks ...
April 29, 2009
Joba Chamberlain was sharp tonight, pitching seven strong innings to help the Yankees have another big inning. Joba pitched seven innings, giving up one run on three hits with three walks ...
April 29, 2009
Barry Bonds has basically been blackballed by baseball. Owners deny it, but it appears to be collusion. Bonds is an easy guy to root against, he has a ton of baggage, ...
April 29, 2009
The New York Yankees take on the Detroit Tigers tonight in the last of three games from Comerica Park. The two teams split the first two, and tonight Joba ...
April 29, 2009
The Yankees finish up a tough road trip tonight trying to win the series in Detroit with Joba on the mound against young Rick Porcello. They will begin a ...
April 28, 2009
The Yankees ended the losing streak with a 11-0 win in Detroit. Franchise Phil restored order with six shutout innings. He had 2 walks, 2 hits and 6 strikeouts. ...
April 28, 2009
Here are the notes and lineups for tonight's game:- In the last two games, the Yanks have one walk and 17 strikeouts.- Robinson Cano is up to .380 and has ...
April 28, 2009
April28This from Hal Steinbrenner via the Yankees:"A few weeks ago I indicated that in light of the economy we would review the pricing of a small number of our premium ...
April 27, 2009
Here are the pregame notes and the Yankees lineup, via Peter Abraham of the Journal News and the Yankees loud blog. The Yankees are 16-11 against the Tigers the last ...
April 26, 2009
The Yankees had a terrible weekend in Boston, getting swept by the hated Red Sox. The Yankees had a 4-2 lead in the ninth with two outs on ...