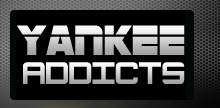 April 29, 2009 · Gary Marchese · Jump to comments
Article Source: Bleacher Report - New York Yankees
Joba Chamberlain was sharp tonight, pitching seven strong innings to help the Yankees have another big inning.
Joba pitched seven innings, giving up one run on three hits with three walks and six strikeouts. He was also hitting 93-95 on the gun, which is a great sign, as his velocity has been up his last two starts and this was the best that he has looked.
The Yankees had a seven-run fourth inning today, and that was all they needed, although it got interesting at the end.
Nick Swisher hit two home runs, one from each side of the plate, becoming the 10th Yankee to do that. Hideki Matsui walked three times and had a double, as he continues to get better. Robinson Cano extended his hitting streak to 16 games. Melky Cabrera had another hit, and Ramiro Pena had a hit. Johnny Damon had two hits and an RBI.
The game got interesting in the ninth, as Jon Albaladejo gave up a couple of runs and left with two runners on and two outs. Mariano Rivera, who didn't appear to be completely warmed up, came in and gave up a three-run home run to Curtis Granderson before getting Polanco to pop out to second to end the game.
The Yankees ended the road trip on a high, winning the last two games behind two young guns after a miserable weekend in Boston. The Yankees now come home and begin an eight-game homestand tomorrow with Anaheim, and then Boston and Tampa Bay come in.
I forgot to mention it was also Joe Girardi's 100th win as manager of the Yankees. I like that he said he would like to do that in a year.