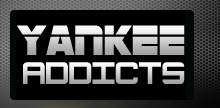 April 28, 2009 · Gary Marchese · Jump to comments
Article Source: Bleacher Report - New York Yankees
The Yankees ended the losing streak with a 11-0 win in Detroit. Franchise Phil restored order with six shutout innings. He had 2 walks, 2 hits and 6 strikeouts. He would have pitched the seventh, but didn't need too after the Yankees scored 10 runs in the seventh.
Mark Melancon also pitched a 1-2-3 inning and Edwar Ramirez and Jose Veras finished the game off. Jose Veras hit a guy and gave up a hit but got out of it.
Hideki Matsui continued his hot hitting with two hits and a RBI and Robinson Cano also had two hits and a RBI. Nick Swisher had 2 hits, 2 walks and a RBI. Melky Cabrera had 2 hits, 2 walks and a RBI.
It looks like Melky Cabrera wants his job back and for right now has it back. He has to keep playing at this level. Jose Molina had one hit, but it was a grandslam. Derek Jeter and Johnny Damon each had a hit a piece.
The Yankees needed a game like this and maybe now they will relax. Joba Chamberlain will try to get them a series win tomorrow going against young Rick Porcello from NJ at 7:05 on the YES network.
I hope the Yankees hitting will now get on a roll again. A-rod continues to progress and it looks like he could be back next week or not too long after that, which will be a huge boost for the team.