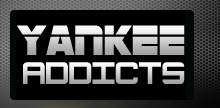 April 27, 2009 · Gary Marchese · Jump to comments
Article Source: Bleacher Report - New York Yankees
Here are the pregame notes and the Yankees lineup, via Peter Abraham of the Journal News and the Yankees loud blog.
The Yankees are 16-11 against the Tigers the last four seasons and 8-6 at Comerica Park.
CC Sabathia has made 26 career starts against the Tigers and is 13-9 with a 4.70 era and 7-2 with a 3.80 era in Detroit.
Hideki Matsui has hit safely in six straight games and is 10 of 23. He is now hitting 280.
Robinson Cano has a 13 game hitting streak, he has hit safely in all but one game this season.
Nick Swisher has gone cold, going five of his last 31 (181) in his last eight games. He is now hitting 286, striking out 11 times in those 31 at-bats and has two RBIs.
The Yankees are 32-28 in April, since the last three seasons.
The Yankees had a terrible weekend, but I am not ready to panic yet. I will give them up to 30 games before I really go crazy. They need CC to step up today and start pitching the way he can. Then, hopefully, Phil Hughes will show what he is capable of tomorrow and the pitching will get on a roll, and before you know it, they will have A-Rod back and will be playing more home games and can take advantage of that. Here is the lineup for tonight:
Jeter(ss)
Damon(lf)
Teixeira(1b)
Matsui(dh)
Cano(2b)
Swisher(rf)
Cabrera(cf)
Molina(c)
Pena(3b)
Enjoy the game! Hopefully, I will be back later with a happy postgame.