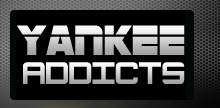 April 28, 2009 · Gary Marchese · Jump to comments
Article Source: Bleacher Report - New York Yankees
Here are the notes and lineups for tonight's game:
– In the last two games, the Yanks have one walk and 17 strikeouts.
– Robinson Cano is up to .380 and has a 14-game hitting streak.
– Nick Swisher is struggling, going 6 for his last 35, and has two RBI in that time.
– Hideki Matsui has a seven-game hitting streak and is 11 of his last 27.
– The Yankees have scored three runs in the last 19 innings.
– The Yanks are 32-39 in April over the last three seasons.
– Steven Jackson was sent back to AAA as expected. Jorge Posada is out with a sore hamstring, which would explain him not running to first last night.
Yanks lineup: Jeter(ss), Damon(lf), Tex(1b), Matsui(dh),Cano(2b),Swisher(rf),Cabrera(cf),Molina(c), Pena(3b)