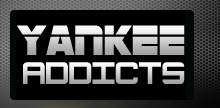 April 26, 2009 · Gary Marchese · Jump to comments
Article Source: Bleacher Report - New York Yankees
The Yankees had a terrible weekend in Boston, getting swept by the hated Red Sox. The Yankees had a 4-2 lead in the ninth with two outs on Friday when Mariano Rivera blew the save, giving up a two-run homer to Jason Bay to tie the game, and it just seemed to snowball from there.
On Saturday, the Yankees had a 6-0 lead, but A.J. Burnett just could not hold it, and the 'pen got roughed up. On Sunday night, the Yankees couldn't get anything going and lost 4-1.
The Yankees are a mess right now, but they were playing good before this weekend other than the games Chien-Ming Wang pitched. The starters need to start getting more consistent and then the bullpen will be in better shape and can be in more defined roles.
The offense is the same old thing. Yeah, they can score runs, but they don't do the little things. They strand too many runners, and right now third base and center field are automatic outs, and Big Tex isn't playing the way he eventually will.
The Yankees just need to have a good series in Detroit and get back on track. They will get A-Rod back in a couple of weeks and that will help, as they do need him.
The bright side of Sunday night's game was Mark Melancon, who pitched two shutout innings. He was very impressive in the seventh, retiring the side in order on, I believe, five pitches. His second inning was shaky, loading the bases with no outs, but he showed a lot of poise by getting a groundout to third, which got the force at home, and then a strikeout and groundout to get out of trouble.
I believe him and Dave Robertson will evolve into late-inning guys who the Yankees can trust, and the more experience the better for them.