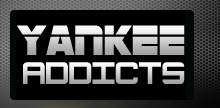 April 29, 2009 · Gary Marchese · Jump to comments
Article Source: Bleacher Report - New York Yankees
The Yankees finish up a tough road trip tonight trying to win the series in Detroit with Joba on the mound against young Rick Porcello. They will begin a four game series with the Angels tomorrow night at home. It will be the start of an eight game homestand, the Yankees have played the least amount of games at home in the majors up to this point and it will be nice to be home for a while. Here are the matchups vs the Angels:
Tomorrow: Anthony Ortega vs A.J. Burnett
Friday- Jered Weaver vs Andy Pettitte
Saturday- Matt Palmer vs CC Sabathia
Sunday- Joe Saunders vs Phil Hughes

The Yankees never beat the Angels but this is their chance to win some games against them. Ortega will be making his second career start tomorrow, Weaver is good but struggles against the Yankees and Matt Palmer is making his fifth career start.