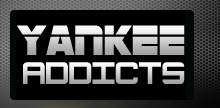 News published by
March 17, 2010
We'll call this a brief cameo, thanks to Bill Madden: Like everyone else in baseball, the Yankee high command is watching with keen interest how the Joe Mauer negotiations with the ...
March 10, 2010
Nearly a month ago, Brian Cashman declared that there will be no talks with either Derek Jeter or Mariano Rivera regarding contract extensions: When Brian Cashman looks at Derek Jeter, Mariano ...
February 23, 2010
Did the New York Yankees' reluctance to give Johnny Damon two years deal reflect something about their love for free agent to be Carl Crawford? According to Jon Heyman, the ...
December 23, 2009
Lost in the shuffle of the Yankees tremendous offseason has been their relative inactivity on the Aroldis Chapman front. At the beginning of the offseason, the Yankees were heavily linked ...
December 22, 2009
By acquiring Javier Vazquez, the Yankees are addressing one of their more pressing needs this winter: more starting pitching. By acquiring Vazquez, they sure picked up a good one. Vazquez is ...
December 18, 2009
Coming into the offseason, the two top free agent first basemen on the market were Adam LaRoche and Nick Johnson. Besides the fact that they are both left-handed ...
December 18, 2009
Last night, the Yankees and Nick Johnson came to terms on a one year/$5.5 million contract that all but ends Johnny Damon's tenure with the Yankees: In a move that almost ...
December 17, 2009
Could Nick Johnson be returning to the Bronx? Maybe: The Yankees and Nick Johnson are talking about the sweet-swinging lefty and on-base machine replacing Hideki Matsui as the world champions' designated ...
December 13, 2009
A few years ago, Chien Ming Wang was considered the Yankees' ace. Now, Wang isn't even a Yankee. In fact, after being non tendered yesterday, Wang has no team: Wang, 30, ...
October 1, 2009
Over the course of his career, Rich Harden has been a maddeningly frustrating pitcher. At times, Harden looks like the best pitcher on the planet because he has the stuff ...