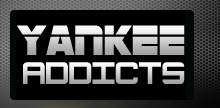 December 22, 2009 · Josh Levitt · Jump to comments
Article Source: Bleacher Report - New York Yankees
By acquiring Javier Vazquez, the Yankees are addressing one of their more pressing needs this winter: more starting pitching.
By acquiring Vazquez, they sure picked up a good one. Vazquez is coming off the best season of his career with the Braves and was one of the top starting pitchers in the National League last season.
On paper, the Yankees now have a starting rotation comparable to that of the Red Sox.
But you have to wonder how Vazquez will fare with the Yankees. Vazquez was a bust for the Yankees back in 2004, and now he will be moving out of the cozy NL East and into the potent AL East.
In many ways, it's like moving from junior varsity to varsity. In that respect, I would expect Vazquez's numbers to go up from last season.
Make no mistake about it, though: If Vazquez can give the Yankees 200 IP with 190-plus Ks and a 3.75 ERA, then there is no reason why he won't be able to win 15-plus games with the Yankees the way this team is constructed.
While this trade does not give the Braves the power bat they were looking for, it does free them of the $11 million owed to Vazquez this season and allows them to become players on the free agent market should they choose too.
It remains to be seen if they will be able to pursue Matt Holliday or Jason Bay, but given how poorly both of their markets have developed, the Braves would seem to have a good chance to land either player, especially Bay. At the very least, the Braves should have the funds to re-sign Adam LaRoche or go after Dan Uggla.
It's also important to note that the Braves did not just get rid of Vazquez's contract, but also got more in return than I thought. Melky Cabrera should be a very useful fourth outfielder/platoon partner for the Braves who can hit for some power and play solid defense.
In addition, Cabrera is not projected to be a free agent until after the 2012 season, which is yet another plus for the Braves.
Also, Mike Dunn could be a realistic option for the Braves bullpen this season, and let me tell you this, I watched Arodys Vizcaino pitch several times for the Staten Island Yankees last season, and that dude has phenomenal stuff. Sure, he is still a ways away from the majors, but the raw talent is certainly there.
Read more New York Yankees news on BleacherReport.com