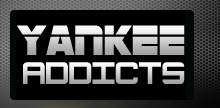 March 17, 2010 · Josh Levitt · Jump to comments
Article Source: Bleacher Report - New York Yankees
We'll call this a brief cameo, thanks to Bill Madden:
Like everyone else in baseball, the Yankee high command is watching with keen interest how the Joe Mauer negotiations with the Minnesota Twins play out this spring.
Unlike most other teams, however, the Yankees have both the financial resources to afford the MVP catcher as well as the surplus of talent it would take to acquire him should the contract talks reach an impasse and the Twins elect to put him on the trade market.
Indeed, if there is one area where the Yankees are rich in prospects, it is catching, where Jesus Montero and Austin Romine are rated by most scouts as can't-miss major leaguers. The question is, which of them, if either, will be the one to succeed Jorge Posada .
–snip—-
"But in my opinion," said one scout, "the next catcher for the Yankees will be Joe Mauer. Imagine if the Twins don't sign him and he goes out there on the market next winter with both the Yankees and Red Sox in need of a catcher?
That will be the wildest bidding war in baseball history, and don't think his agent doesn't know it. And if they (Twins) decide to trade him, the Yankees have the better pieces to get him."
I still can't believe it will ever come to that. With their new taxpayer-funded, open air Target Field (on which they refused to spend the extra $150 mil to equip with a retractable roof), the Twins cannot afford to let their hometown catcher leave…and yet there have been some unsettling rumblings out of Minneapolis and Fort Myers that the two sides remain far apart with an opening day deadline looming.
This story proves that the news week is slow. If someone can explain to me why the Twins would ever trade Mauer, please let me know.
As far as I'm concerned, the mere thought of trading Joe Mauer this season is crazy. Even if the Twins and Mauer cannot come to terms on a deal by the "deadline," the Twins have a new stadium opening this year and trading away the top draw would not be a good business move.
Also, the Twins (even without Joe Nathan) are a pretty good team on paper.
The "Mauer to the Yankees" dream will live on until a long-term deal with the Twins proves otherwise, but I'd be willing to bet anything that the Twins will never, ever trade Mauer.
Read more New York Yankees news on BleacherReport.com