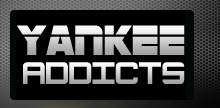 March 10, 2010 · Josh Levitt · Jump to comments
Article Source: Bleacher Report - New York Yankees
Nearly a month ago, Brian Cashman declared that there will be no talks with either Derek Jeter or Mariano Rivera regarding contract extensions:
When Brian Cashman looks at Derek Jeter, Mariano Rivera and Joe Girardi, the Yankees GM paints his shortstop, closer and manager with the same brush.

And with spring training opening next week in Tampa, Cashman has no plans to stray from his plan of not negotiating with them. All three contracts are in the final year.

"I don't think you can separate one from the other," Cashman explained. "I am not saying they are the same, but the questions will come, 'If you did one, why didn't you do the other?' If this was Kansas City, it would be different — but it's not."
And yesterday, Chairman Hal Steinbrenner reiterated that point:
"Everybody does business in a different way," the team's managing general partner said Tuesday following a news conference to announce details of the first Pinstripe Bowl at new Yankee Stadium, "I just don't believe in contract extensions, and that's throughout the organization, no matter who it is. Hopefully nobody takes that personally. It's just business."

Jeter's $189 million, 10-year contract expires after the World Series, as does Rivera's $45 million, three-year deal. Girardi is entering the final season of a $7.8 million, three-year contract.

"I've got a great relationship with them all," Steinbrenner said. "I've expressed to all of them that, `You're part of the Yankee family and you're wanted. It wouldn't be the same without you.' But as far as no extensions, it's a business policy of mine."
This is obviously big news in Yankee land because Jeter and Rivera will be free agents at the end of the season, but I don't think there is a baseball fan out there that seriously thinks that either guy will leave the Bronx. The fact that Jeter and Rivera are not under contract with the Yankees beyond this season means that this story will have legs all season, which is unfortunate given how unlikely it is that either guy will leave.
Read more New York Yankees news on BleacherReport.com