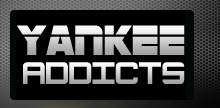 News published by
May 24, 2013
Baseball, and especially New York Yankees baseball, can be unpredictable at times. From the emergence of unlikely heroes, such as Aaron Boone in the 2003 ALCS, to the out-of-nowhere dominance ...
May 15, 2013
At the outset of the 2013 regular season, the New York Yankees' playoff chances looked slim. They would begin the season without Derek Jeter, Alex Rodriguez, Curtis Granderson, Mark Teixeira ...
May 9, 2013
The New York Yankees are not a team known for developing their own elite talent. Despite the "Core Four" of Derek Jeter, Jorge Posada, Mariano Rivera and Andy Pettitte carrying ...
May 2, 2013
The New York Yankees have been one of the more surprising teams of April due to their success despite a lack of talent on their active roster. However, that isn't ...
April 19, 2013
Over the course of their extensive history, the New York Yankees have often been among the most hated franchises in sports.Boasting 27 World Series victories, the Bombers have inspired many ...
April 11, 2013
After an embarrassingly cold opening series against the Boston Red Sox, the New York Yankees have started to heat up playing the AL Central's Detroit Tigers and Cleveland Indians. However, ...
April 5, 2013
The New York Yankees looked doomed in spring training, and their opening series against the Red Sox this week did not help silence any of their naysayers. After losing the first ...
March 29, 2013
For the first time in a long time, the only piece of the New York Yankees' roster that seems to be set in stone is their starting pitching.Normally, their lineup ...
March 21, 2013
On Opening Day in April, the New York Yankees will have more holes and uncertainty than they have had in almost any season since the mid-1990s.In a year where the ...
March 14, 2013
Going into this spring, the New York Yankees knew that they would have to replace a large amount of production after the departures of Nick Swisher, Russell Martin, Raul Ibanez, ...