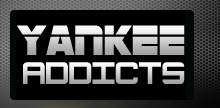 May 24, 2013 · Josh Housman · Jump to comments
Article Source: Bleacher Report - New York Yankees
Baseball, and especially New York Yankees baseball, can be unpredictable at times. From the emergence of unlikely heroes, such as Aaron Boone in the 2003 ALCS, to the out-of-nowhere dominance of previously unknown prospects such as Joba Chamberlain in the closing month of the 2007 season, one never knows where the Yankees will find their magic.
This season has been different than most for this generation of Yankees. They entered the season as an underdog, a postseason afterthought. However, a plethora of unexpected performances has given the team early success.
Given their abundance of needs due to injury, many replacement level players have been relied on to take the spots of All-Stars such as Derek Jeter, Alex Rodriguez, Mark Teixeira, Kevin Youkilis, Curtis Granderson and Russell Martin. Some have played as replacement level players, while others have come close to or exceeded the production of the players they are filling in for.
There has been enough of the latter to say that to this point, the whole Yankees season has been a surprise. Here are the top five surprises for the New York Yankees in 2013.