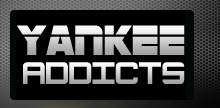 March 29, 2013 · Josh Housman · Jump to comments
Article Source: Bleacher Report - New York Yankees
For the first time in a long time, the only piece of the New York Yankees' roster that seems to be set in stone is their starting pitching.
Normally, their lineup is star-studded and it is the pitching that is in flux. However, a mix of injuries and departures has rendered the Yankees offense anemic, and it will be up to their rotation to carry the load in 2013.
The Yankees' pitching was surprisingly good last year, leading the team to the most wins in the American League with 95. However, it is very questionable whether a group of inexperienced young arms and veteran aging arms be trusted to give New York an encore.
Ahead is a best- and worst-case scenario for each of the Yankees' six starting pitchers heading into the season.